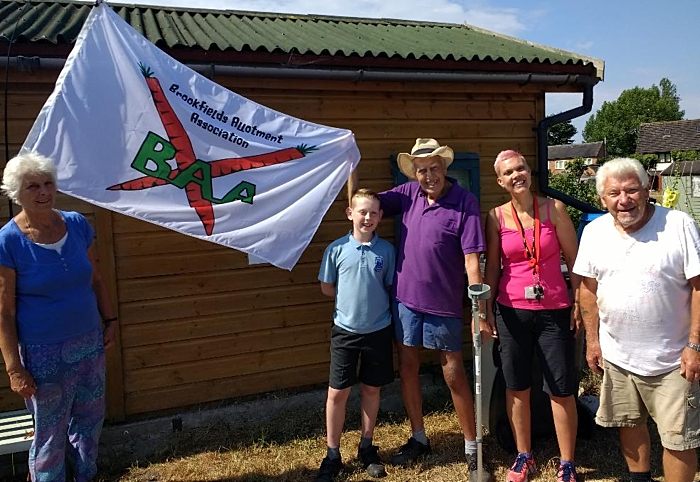 A Nantwich youngster and his friends are flying their flag high this week – after winning an allotment flag design competition!
Young designer Jack Best, 10, a pupil at Weaver Primary, and his classmates entered the contest to design a logo for the Brookfield Allotments Association last winter.
And this week, he helped run his prize-winning "Crossed Carrots" design up the flagpole.
"I had forgotten all about it but I am really happy to see it flying in the sky," said Jack.
"I love gardening and this is a great way to help."
After raising the new "Crossed Carrots" flag, the class took a tour of the allotment gardens and met a range of allotment enthusiasts who were delighted to welcome the youngsters to see their plots.
Weaver Primary teacher Claire Morgan, who organised the competition, said: "The children really enjoyed their visit and wanted to get stuck in.
"Nature is a superb classroom with so much to teach the next generation.
"There are links to so many areas of the curriculum, including biology and environmental science, human health and diet.
"We were all really inspired and I am sure the visit will have planted a seed in their imaginations."
Allotmenteer Jeremy Herbert, who showed the class around, said it was vital to get the next generation gardening.
"The children from Weaver really new their onions!
"They were interested in everything and asked loads of questions.
"Some of them are already active gardeners and they took a real interest in all the plants, the bees and the fruit trees.
"Gardening is very affordable way to get exercise and fresh air while growing healthy fresh vegetables and fruit.
"It's a brilliant way to take time out and relax, great for mental health, too.
"It's also a great place to make friends, with regular social events with our summer barbecue coming up soon.
"We have spare plots available and would welcome new diggers to join us. If you want to come and have a look just give me a call!"
To find out more ring 07729 979641 or email [email protected]
(Pic above, left to right: Allotmenteer Irmgard Ralfs, Jack Best, allotment veteran Albert Siddons, teacher Claire Morgan, and prize-winning plot holder Tony Cail)
(Pic, below, Jack and his classmates cheer the new flag!)