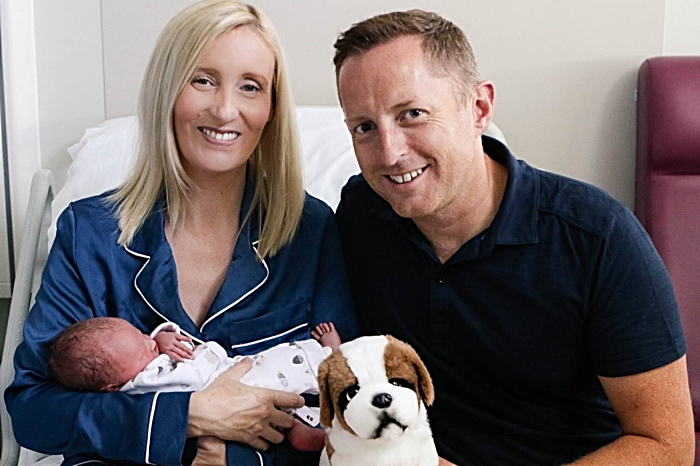 Nantwich parents Sally and Rob Capener enjoyed a double celebration after the birth of their son.
For Logan was the first to be born at Leighton Hospital on the day the nation celebrated the NHS' 70th birthday!
The couple were delighted to welcome little Logan into the world on July 5.
But they had no idea at the time that a different birthday was also being celebrated up and down the country.
Sally, 41, said: "Within literally a minute or two of giving birth the midwives realised it was the 70th birthday of the NHS.
"They were both really chuffed about it.
"It was really nice. It's a nice thing to mark."
Logan was born weighing 5lb 8oz at 6.23am and received one of his first birthday presents from the hospital – a cuddly toy dog.
Sally said: "It's been brilliant.
"All the midwives and staff that we came into contact with, from the induction bay, labour suite and this ward [Ward 23] have all been really accommodating."
Husband Rob, 44, added: "They've all been really helpful, especially as first time parents.
"It's really new to us so to have somebody there to show us the ropes and give us confidence has been fantastic. Nothing's too much trouble."
The arrival of Logan on the anniversary of the National Health Service has also reminded his parents about how important the institution is.
Rob said: "It's not until you actually need the NHS that you realise what an amazing service it is to have.
"We all take it for granted, but we've seen first hand this week just how fabulous it is."
Logan was one of seven babies born at Leighton Hospital on July 5 and one of the more than 2,800 that the award-winning maternity service sees every year.
Alison Walker, deputy head of midwifery, said: "Every delivery at Leighton Hospital is special to both us and the parents, and it's been extra special to welcome babies into the world during the NHS' 70th birthday.
"We're thrilled that Sally and Rob have been made to feel so supported and would like to wish them, as well as baby Logan, the very best for the future."
(Images courtesy of Nicola Cooper Photography)