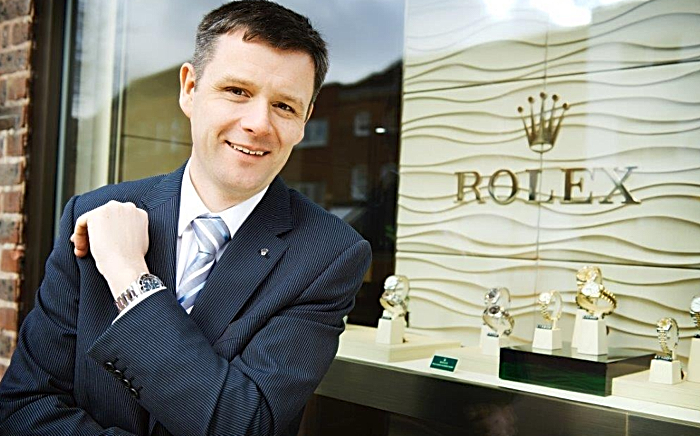 A South Cheshire businessman has pledged a £10,000 raffle prize to be won at the Party Gras event in Nantwich in aid of St Luke's Hospice.
Andrew Pass, managing director of John Pass Jewellers on Nantwich Road in Crewe, has donated the "money can't buy" prize as a gift to celebrate the company's 70th birthday.
Party Gras, which promises a night of luxury, fine food, cocktails and carnival at Dorfold Park in Nantwich, is set to take place on Friday July 27.
The nature of the £10,000 prize is being kept under wraps until the event.
Andrew Pass said: "We are so proud to celebrate our 70th anniversary.
"And we're proud to be able to give back to St Luke's and the community for all the loyalty that they have shown to us over the years.
"To mark this milestone we are thrilled to support St Luke's 30th anniversary summer ball, Party Gras, with our £10,000 money can't buy experience."
Roger Mills MBE, Vice President of St Luke's, said: "Party Gras will bring the colour, flavour, sounds and excitement of the Brazilian carnival to Cheshire, and promises to be a night to remember.
"We are incredibly excited to announce that the top raffle prize on the night is worth £10,000 from John Pass Jewellers.
"We can't reveal any more details at the moment, as we want it to be a surprise on the night, but rest assured that it will be a 'money can't buy' experience.
"We are so grateful to John Pass Jewellers for their unbelievable generosity.
"Party Gras will also see the launch of a limited edition, celebratory, small batch gin. Six hundred bottles of AT 30 gin have been made, each with a unique batch number to mark this very special occasion.
"There's still time to book your place at this incredible night and to help raise money to lay the foundations for another 30 years of caring by St Luke's Hospice."
The fundraising event is being organised to mark St Luke's 30th anniversary.
It will begin with cocktails on the alfresco terrace at Dorfold Park.
The party will then move into a marquee where a four-course meal will be served by Horseradish – a catering team of 5* and Michelin experienced chefs.
Guests can dance the night away with the award-winning Toni James Band.
The event has been sponsored by local Nantwich and Crewe companies including Mornflake Oats, Event Equipment Ltd, TR Creative, Delmar Print, Redrow Homes, Roberts Bakery, Rodney Densem Wines, Alpha Omega Security, John Pass Jewellers, Northwood UK and The Residents, Nantwich.
You can find out more about Party Gras and book tickets at www.partygras.co.uk