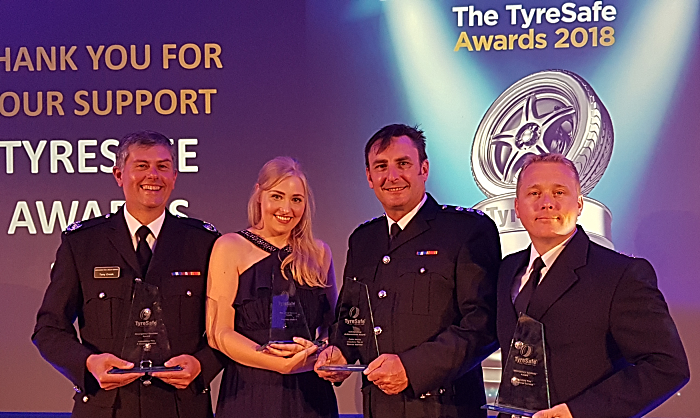 Cheshire Fire and Rescue Service has received a national award for its tyre safety checks.
The service, in partnership with Lancashire Fire and Rescue Service, Highways England and Protyre, won an award in the Emergency Services category at the Tyresafe awards.
It won the award for carrying out checks on people's tyres at the numerous charity car washes the Service hosts for the Firefighters Charity every year.
While members of the public are queueing to get their car washed, staff from Highways England carry out checks on tyres using state-of-the-art sigma vision tyre scanners.
Motorists can then be given the all-clear, or given advice to change their tyres.
Andy Gray, road safety officer at Cheshire Fire and Rescue Service, said: "We are delighted to receive the award.
"Hundreds of people support our charity car washes every year and by working with our partners we are making sure that people are leaving our fire stations with a clean and safe car to drive."
Fire Service's road safety manager Colin Heyes also received an award for his outstanding contribution over the years at the same ceremony.
He is due to retire from the service next month.
Colin said: "It was very gratifying to receive the award but it is impossible to receive an individual award when you are a member of the fire and rescue service.
"I have been lucky enough to be in a privileged position to manage and lead people in various ways in the last 30 years and what I have learned is that you cannot do anything alone. It is always a team effort.
"This award, I know it is a cliché, is an award for all of Cheshire Fire and Rescue Service and the things we have achieved."
(Pic L-R: Tony Crook, from Lancashire Fire and Rescue Service, Samantha Jackson, from Highways England, and Colin Heyes and Andy Gray from Cheshire Fire and Rescue Service)