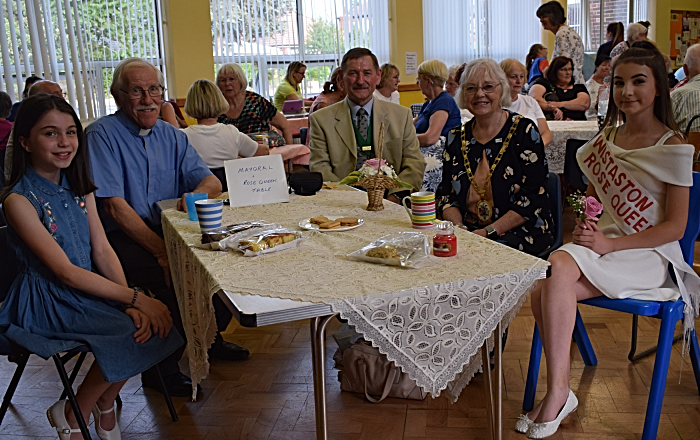 A "Summer Celebration" held in Wistaston has helped to raise several hundred pounds for Diabetes UK, writes Jonathan White.
Visitors enjoyed strawberries & cream, cakes, jams & chutneys, home-made breads, and home-made cards at the event in St Mary's Church hall.
There was a tombola, book stall, bric-à-brac stall and grand prize raffle.
Singing and ukulele playing was performed by Wistaston musician Chris White, who dressed up as St George with a tunic, cape and chain-mail hood to sing the England football team song 'Three Lions'.
Despite the clash with England's World Cup semi-final, dozens of people attended including Cheshire East Mayor Lesley Smetham, her Consort David Smetham, Wistaston Rose Queen Poppy Bellingham and her Attendant Lyla Manfredi.
It was organised by Crewe and South Cheshire Voluntary Group of Diabetes UK.
Crewe and South Cheshire Voluntary Group raises around £7,500 a year for Diabetes UK.
Organiser Ken Sambrook said: "We held firm to our date and time, despite the England match being held in our time slot, but our supporters did not let us down and thanks to all we raised £821.
"The use of St Mary's Church Hall enabled us to extend our scope and with wonderful helpers and donors from friends and local families it was a great success.
"Thanks are due to St Mary's, the Mayor of Cheshire East, her Consort, Wistaston Rose Queen, her attendant, entertainer Chris White and all the good people of Wistaston and beyond."
(Photo: l-r – Lyla Manfredi, Ken Sambrook, David Smetham, Lesley Smetham, and Poppy Bellingham)
(Words and pics by Jonathan White)