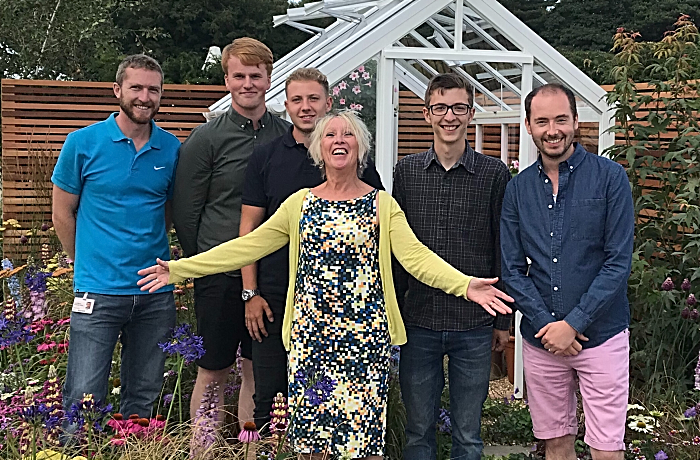 Horticulture and floristry students from Nantwich added a splash of colour to the RHS Flower Show Tatton Park.
The Reaseheath College students pooled their talents to design "A Path to the Future" – awarded a silver medal in the Back to Back show garden category.
A small greenhouse, equipped with growing and propagation technology including LED lighting, is set in cottage style planting which, although traditional, showcases varieties which have been grown within the last five years.
The garden is designed to be a section of a larger garden or to stand alone in a limited space, and so is achievable to virtually all keen gardeners.
It was built by lead designer Jake Jackson, fellow undergraduates Brad Howarth and Nathan Webster and by apprentice Matt Rodgers.
The team was led by landscape architecture course manager Craig Bailey and supported by Reaseheath's Horticultural department.
Reaseheath's florists – fresh from success at RHS Chelsea Flower Show – joined other florists and nurseries in creating 7ft high flower towers to celebrate the Tatton show's 20th anniversary.
Called 'Colour Continuum', the floral extravaganza included a purple 3D allium and exploding fireworks.
The flower towers are part of a new floral activity and workshop hub offering visitors creative, hands-on experiences including advice from experts.
Other successful Reaseheath alumni who exhibited included:
Adi Thomas, Director of Verdure Floral Design in Manchester, awarded gold and best exhibit in The Flower School with his fantastic display, Dreams of India
Nathan Webster, Landscape Architecture student, who designed a show feature for major show supporter Bruntwood – 'The Bruntwood Garden'
Sue Beesley, designer of silver medal winning Back to Back garden 'Don't Chop Me Down'
The Tiny Plant Company, a nursery specialising in miniature favourites, run by ex horticulture student Matt Wood and backed by Reaseheath designer Sally Parkinson
Reaseheath Lecturer in Horticulture Lis Morris, who presented "Know Your Enemy", a talk on pests and diseases.