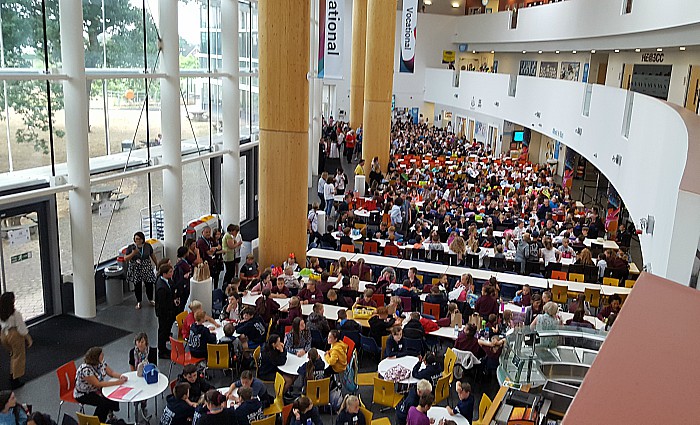 More than 1,300 pupils from 32 Cheshire primary schools enjoyed a fun packed week at the 24th Primary College event at Cheshire College – South & West.
The event is designed to provide Primary School children with a chance to see a range of learning and career opportunities available to them beyond the school curriculum.
Each pupil participated in four different activities from 32 available options.
The options were delivered from a mix of Cheshire College – South & West staff, local secondary school staff and external providers.
These included support from the NHS, Cheshire Fire and Rescue, and Cheshire Police.
The event has grown and developed over the past 24 years and is now firmly established in the school calendar year.
Primary College offers year 5 and 6 pupils a chance to participate in activities not normally available, such as bricklaying, drone coding, civil engineering, performing arts, motor vehicle and hair & beauty.
This is all done in the safe and secure environment of the college, giving the opportunity for children, from a variety of schools and backgrounds, the chance to work, play and have fun together.
Matt Beeston, a teacher at Stapeley Broad Lane Primary School, remembers attending one of the first Primary College events as a pupil in 1995.
"I remember the event, even then, opening my eyes to a range of opportunities that I hadn't even considered.
"Being able to come back as a teacher all these years later and watch my pupils eyes light up with excitement as they arrive has been fantastic.
"Not only do they get the chance to participate in a range of courses that we can't offer but they get to mix with other pupils from the area."
Organiser and Schools Liaison Officer Simonetta Mitchell added: "This is one of my highlights of the year.
"Organisation begins in November when we meet with the schools and discuss the event for the following year.
"It is a great opportunity to bring the community together and provide pupils with a real understanding of the learning opportunities available in the future."
To find out more information about Primary College at Crewe, contact the college on 01270 654654.