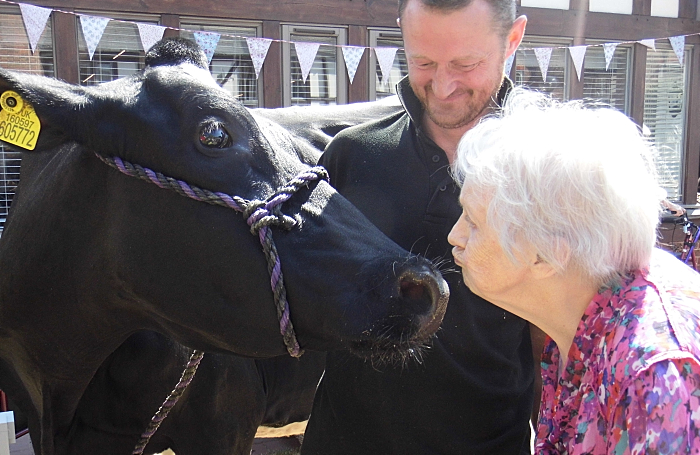 Midnight the cow deserves a 'pat' on the back for putting Nantwich care village residents in a good mooood!
She came to the rescue of residents at Richmond Village, off London Road, who were competing in an inter-village contest called "The English Countryside".
They decided to bring the country to their village, so posted a request online for a real live cow.
And the owners of Halton Farms in Alsager responded by offering their champion Holstein X cow, Midnight.
She recently won her class at the Cheshire Show held in Tabley near Knutsford.
Nicola Jackson, senior village adviser at the retirement village, said: "Grace Pedley and Simon Broomhall from Halton Farms answered our request on Facebook, and the village residents were overwhelmed when they arrived with a real cow on competition day!
"The annual competition between Richmond's villages around the country is quite fierce!
"This year we wanted to do something different that would also mean a lot to our residents, many of whom have been involved with farming in the area with some owning large dairy herds.
"When we appealed for a 'clean cow' to visit us, we didn't think we would get such a fantastic response, so we were all delighted when Halton Farms contacted us to offer one of theirs!
"It has been so special."
The inter-village competition involves residents, relatives, staff, volunteers and the local community.
"It's a lot of work but results in so much laughter," added Nicola.
"Judging takes place at each village shortly, and while the winner receives a prize it's more about the kudos of winning!"
Resident Patricia Cole, who once had a farm, said: "It was wonderful to have a cow come to visit us.
"She was beautiful, and so well behaved."
Fellow resident Cathlyn Osborne, who also previously ran a farm, added: "Midnight was much bigger than I remember.
"We used to have so many to milk twice a day although I was always happier driving one of our tractors!"