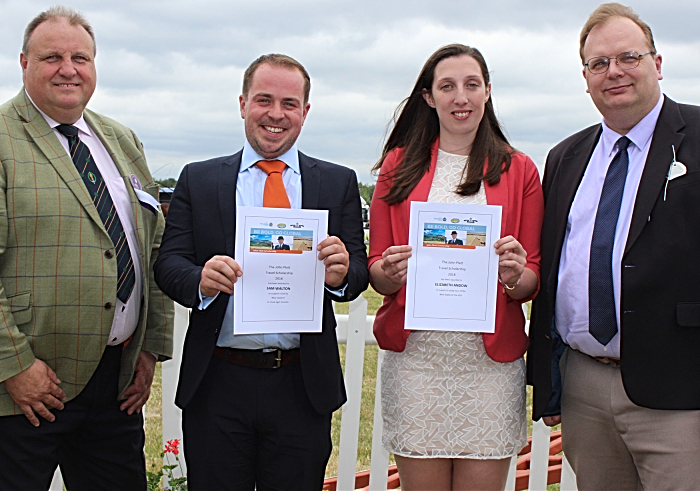 Reaseheath College in Nantwich has helped two Cheshire farm workers embark on global adventures after awarding scholarships.
Lizzy Andow and Sam Walton have each been awarded John Platt Travel Scholarships from the college and Cheshire Agricultural Society worth £2,000 to fund international research which will benefit Cheshire's farming community.
Lizzy, 23, who lives on her family's mixed farm in Swettenham, works for Meadow Quality Ltd, a national livestock marketing business based near Whitchurch.
Her duties include processing trade agreements with major supply chains and she is also working on projects in calf health and production.
Lizzy plans to use her scholarship to tour the USA's "Beef States" of Colarado, Wyoming, Nebraska and Texas to investigate beef production methods and consumer preference.
She said: "It will give me the opportunity to travel abroad and learn from specialists in the industry.
"I think this research could be very relevant to Cheshire farmers, particularly with Brexit coming up and the potential for wider trade deals."
Sam, 29, a former Reaseheath agriculture student, worked as assistant dairy herd manager for the college dairy before moving to his present position.
Based at The Farm at Tatton Park, Sam has a key role which includes running the pedigree herd of Red Poll cattle and interacting with some of the 80,000 visitors a year.
He is also a presenter on local radio Silk 106.9, and plans to visit New Zealand to study agri-tourism and innovative methods used by the country's farmers to encourage the public to visit farms.
"New Zealand has a similar climate to Britain and I'm keen to look at transferable ideas for attractions and diversified businesses.
"I firmly believe it is our responsibility as farmers to educate the public about how their food is produced and about the wider management of the countryside.
"I would like to thank Reaseheath College and the Cheshire Agricultural Society for giving me the opportunity to further my knowledge and interests."
Both will share their findings with fellow farmers, Young Farmers Clubs and agricultural students on their return.
The John Platt scholarship is in memory of John Platt, former Chair of Reaseheath Governors and former Chairman, President and Honorary Life Warden of the Cheshire Agricultural Society.
For further details see www.reaseheath.ac.uk/john-platt-scholarship
(Pic: Lizzy and Sam receive their John Platt Travel Scholarships from Keith Thomas and Reaseheath's Principal Marcus Clinton)