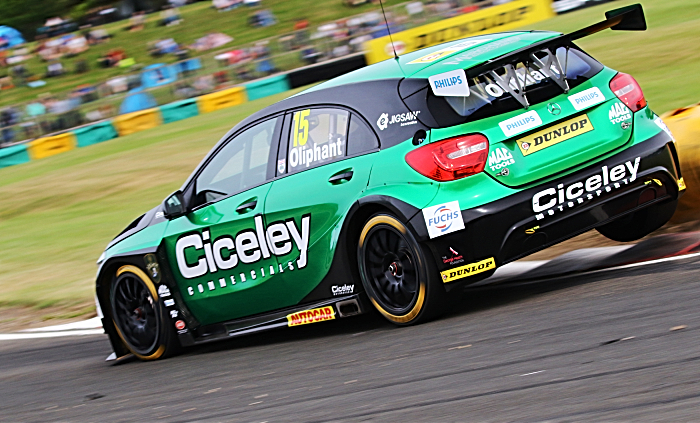 Tom Oliphant hailed an "awesome" team performance after he secured his highest finishes in the Dunlop MSA British Touring Car Championship at Snetterton.
The Tarporley-born racer finished with a pair of eighth place finishes in Norfolk, and now looks to build on that when the championship moves to Rockingham Motor Speedway on August 11-12.
He said: "All in all it's been an awesome weekend.
"I've made another big step forwards in the BTCC, improving my pace and my race craft, and being in the top ten on merit in both qualifying and the races is a fantastic feeling and it shows how far we have come in the series.
"Saturday was particularly pleasing for me, with our out and out pace to qualify in the top ten in the first session, then to raise our game against an equal field and deliver P10 again, especially with the Mercedes not being the strongest package for this circuit.
"They were really difficult conditions in the races, especially in the opener when we could barely see anything for the first five laps.
"I coped well with the conditions though, which is another sign of how much more comfortable I feel in the car, and to bring it home in eighth was brilliant.
"To follow that up with the same result in race two was fantastic and I feel we could have done the same or more in the final race.
"I had some back luck on the first lap with my position on track and got put back, and then one driver tried really hard to spin me and at the third attempt he succeeded.
"Fortunately we came off quite lightly with the damage to the car, and while it's a hugely frustrating end to the weekend, we come away really happy with our speed and progress across the meeting and it is a positive sign for the rest of the season."
Oliphant adapted well to wet conditions in race one and looked at home driving in the thick of the top ten battle, before taking the chequered flag in a fine eighth place.
And the Marchand Watch Company brand ambassador would kick off the second race in strong fashion.
A great move around the outside at Brundle secured him seventh on lap one, before he climbed into the top six for the first time in his BTCC career.
He was shuffled back to eighth over the remaining laps, but the result would still mark his first back-to-back top ten finishes in the series.
The 2018 Dunlop MSA British Touring Car Championship continues next weekend (11/12 August) with Rounds 19, 20 and 21 at Rockingham Motor Speedway in Corby.
(Image courtesy of Jakob Ebrey Photography)