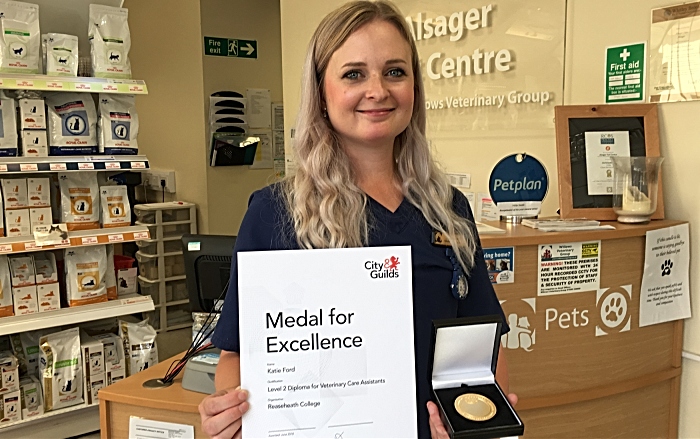 A Reaseheath College trained veterinary care assistant has been awarded a prestigious City & Guilds Medal for Excellence.
Katie Ford, 33, now works at the Alsager Vet Centre, part of The Willows Veterinary Group, where she completed her work placement as part of her course.
Katie, who studied a Diploma for Veterinary Care Assistants student at the Nantwich college, was put forward for her award by course manager Kate-Marie Jeffs, who recognised her "passion, commitment and potential".
Only 85 medals have been awarded worldwide this year.
Katie was also nominated for a Lion Award, given to a handful of the most talented medal winners.
While a student, Katie studied two days a week at Reaseheath's Animal Centre and spent a further two days a week on placement at Alsager Vet Centre.
She aims to take a Level 3 Diploma in Veterinary Nursing to become a registered veterinary nurse.
She said: "I am completely overwhelmed but delighted. It goes to show that hard work really does pays off!
"I thoroughly recommend the Level 2 course, it gives you a real insight into the industry and sets you up for a great career.
"I love learning and I get a lot of satisfaction from caring for the patients who come in with a wide variety of health issues."
Katie previously worked as a wildlife assistant at RSPCA Centre at Stapeley Grange, Nantwich.
Her current job involves preparing pets for surgery, assisting during operations and clinics and caring for inpatients.
She also helps to advise owners on how to care for their pets.
Kate-Marie added: "I am thrilled for Katie.
"This award is thoroughly deserved and is recognition of an outstanding student.
"Despite having health problems at the time, she put her heart and soul into her assignments and was extremely dedicated during her work placement.
"I am confident that she will make an excellent vet nurse."
Practice Manager Gillian White said: "The whole team is over the moon with this award.
"Katie is very hard working and diligent and always goes above and beyond the call of duty."
Reaseheath College's Specialist Centre of Veterinary Nursing staff work with more than 60 veterinary practices within a 50 mile radius of Nantwich campus.