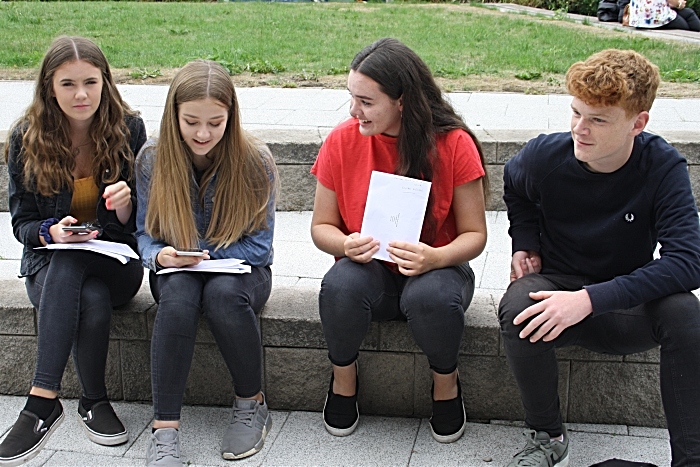 Excited students gathered at Malbank and Brine Leas schools in Nantwich today to collect their GCSE results.
And under a new 9 to 1 grading system and more challenging exams, both schools are celebrating excellent results.
At Malbank, 21% of all grades achieved were equivalent to 7 to 9, while that figure was 30% for Brine Leas.
At Brine Leas, 20% of the cohort gained Grade 7 or above in English and Maths, and there were 136 Grade 9s in total. Three students gained straight grade 9s.
Malbank headteacher Jeannette Walker said: "There were some superb individual performances from Rachel Astbury, Eleanor Davies, Emily Ford, Helen Robertson, Nia Barnett, Chris Gudmunsen, George Lucas, Callum Pearson and Ben Williams who got grades 7 – 9 or an equivalent in all of their subjects.
"I am particularly pleased for Evie Ward, Lewis Heath, Ben Lewis-Jones, Jade Hooper and Katherine Hallworth who improved on their targets by at least 2 grades in all their subjects.
"It's always great when students work incredibly hard and are justly rewarded."
Head of Upper School Chris Yew said: "I am really proud of our young people, particularly those students who had to overcome some significant personal challenges to earn their grades."
Students were keen to discuss their next steps with many of them enrolling for Malbank Sixth Form College.
Brine Leas headteacher Andrew Cliffe said: "We thought we had been successful 12 months ago. This year, in every measure, we have improved on, and beaten, our challenging targets.
"These results are excellent. Students can only try to meet their challenge targets, supported by great teaching and encouraging families.
"All students are different and their very best could be a set of grades at 9s and 8s or it may be results featuring level 4s and 3s.
"Most students achieved a positive value added which shows their hard work and commitment.
"I am delighted with the success of our students and for nearly all of them it will allow them to move smoothly to the next stage of their lives."
Many students are enrolling onto courses at BL6 and there are still a few places left if anyone wishes to apply.
Details are on the website www.bl6.org.uk