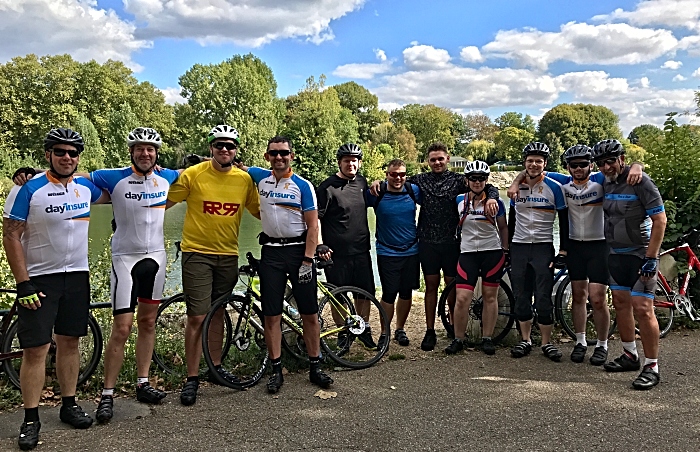 Twelve work colleagues from Tarporley car insurance firm Dayinsure cycled from London to Paris to raise thousands of pounds for charity, The Joshua Tree.
They completed the 200-mile journey between September 12 and 15.
They cycled from Greenwich in London to Newhaven, caught the ferry to Dieppe, then rode into the centre of the French capital, finishing at the Eiffel Tower.
And two of the riders – Ant Breen and Pete Robinson – started two days earlier from the company's headquarters in Tarporley – adding an extra 216 miles to their journey!
The 12 riders were: Stephen Bamber, Barry Bown, Ant Breen, Jamie Hatfield, John Hatfield, Kieran Moralee, Patrick O'Grady, Robert Parry, Pete Robinson, Nicholas Shaw, Sam Welsh and Holly White..
So far they have collectively raised more than £9,000.
The workers chose The Joshua Tree for their fundraising after receiving a moving talk at their workplace from Peter and Sara from the charity.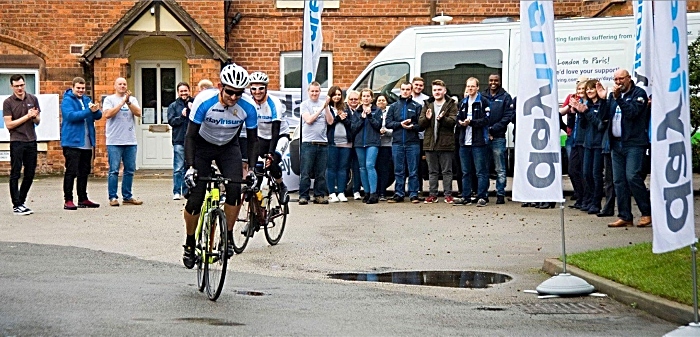 The Joshua Tree supports families across the North West living with the life-changing experience of childhood cancer.
The charity offers support to the whole family – patient, parents, siblings and grandparents, with 1-2-1support, practical and therapeutic help to ensure that life remains as normal as possible during an incredibly traumatic time.
Cyclist Pat O'Grady, from Nantwich, who works at Dayinsure, said: "The London to Paris challenge was a daunting one, it was a tough journey but the group camaraderie made it an unforgettable experience.
"We're immensely proud to have raised money for The Joshua Tree, we've all been touched by their commitment to helping families struggling with childhood cancer.
"I'm sure it will be an emotional moment for a lot of our riders when we hand over the cheque.
"All that's left is to find a bigger challenge for next year!"
To add to their fundraising total, visit https://www.justgiving.com/fundraising/dayinsure-tarporley
(Pics and words courtesy of Jonathan White)