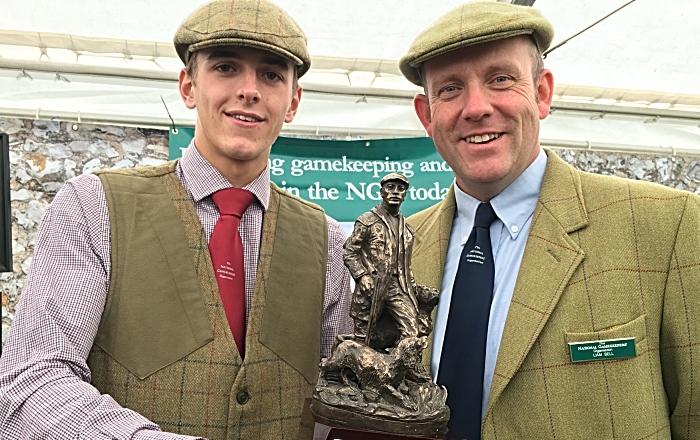 A Reaseheath College student in Nantwich has been recognised as the top gamekeeping student in the country.
Connah Baker, 18, was presented with the coveted Frank Jenkins Memorial Trophy at the Midland Game Fair at Weston Park, Shropshire.
The award is presented annually by the National Gamekeepers Organisation (NGO) and recognises the student who shows outstanding practical and theoretical skills and has the ability to be an ambassador for the sport.
Connah was also top student on this year's Level 3 Extended Diploma in Land and Wildlife Management course at the Nantwich college.
He has now completed his qualification, along with extra industry awards, and is building on his experience in upland management with the aim of becoming head keeper on a grouse moor.
Connah received his trophy from chairman of the National Gamekeepers' Organisation, Liam Bell, in the game fair's main arena and was also presented with a jacket and trousers from outdoor clothing company Musto.
The late Frank Jenkins was a well-known gamekeeper whose career spanned six decades and Connah also received a commemorative gift from Frank Jenkins' daughter and son and a tankard from the NGO National Committee.
Liam said: "Connah is a very worthy winner of this year's Frank Jenkins Memorial Trophy and I congratulate him on his success
"The level of entries was extremely high and the judges had a difficult decision, but Connah's qualifications, commitment and practical skills set him above the other candidates.
"It is clear he has a special talent and great aptitude which will take him far in our profession.
"He is a credit to the gamekeeping staff at Reaseheath College, who have obviously prepared him well for entry into the gamekeeping and shooting world."
Connah added: "Winning the Frank Jenkins Memorial trophy has been an amazing experience and I'd very much like to thank the NGO and Musto for supporting it.
"I've been coming to the game fair since I was ten and always watched the awards being handed over.
"I never dreamed that one day it would be me in the arena!
"I've gained a great foundation for my career at Reaseheath and gaining this award will stand me in good stead during my hunt for employment."
Reaseheath course manager Ged Hunston, said: "Connah has everything that our industry is looking for.
"He is mature, honest, trustworthy, passionate and has self ambition.
"He is always willing to go above and beyond the time tabled activities at college, helps his Mum with charity work, relates easily with both adults and young people and will be a fantastic ambassador for the industry."
(Pic: Connah Baker receives the Frank Jenkins trophy from Chairman of the National Gamekeepers Organisation Liam Bell)