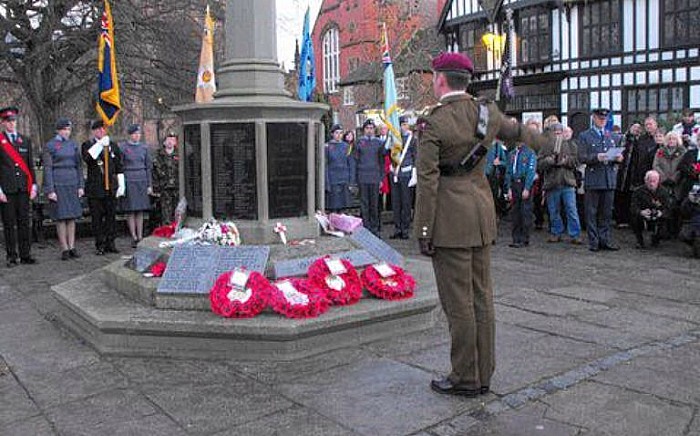 The Nantwich Branch of the Royal British Legion will hold a Remembrance Day Parade and Service to commemorate 100 years since guns fell silent on November 11, 1918.
The parade will form up at Nantwich Civic Hall on the morning of November 11.
Led by the Band and Drums of the Cheshire Constabulary, the parade will step off at about 10.20am to march along Beam Street, Oatmarket and High Street to Nantwich Square.
Members of the public who wish to be present at the service are asked to stand behind barriers which will be erected in the town square.
Rector of St Mary's Church, the Revd Dr Mark Hart, Padre to the Nantwich Branch of the Royal British Legion, will lead the service around the war memorial on the square.
After the church clock strikes 11am, chairman John Dwyer will read the Exhortation followed by the sounding of the Last Post before the two-minute silence.
This will be followed by the sounding of Reveille and President Arthur Moran saying the Kohima Epitaph.
The service will continue with the reading of the names of the fallen by Nantwich Air Training Cadets and Nantwich Army Cadets.
The usual 10.45am service at St Mary's Church will not take place and there will not be a service in church after the service on the square.
The evening service at St Mary's at 6pm, remembering the fallen, will include Faure's Requiem, performed by the Nantwich Singers.
Nantwich Town Council is supporting the Nantwich Branch of Royal British Legion with this year's parade and service.
Prior to Remembrance Sunday, a "Poppy Cross" will be installed in front of St Mary's Church.
For a small donation, the church and British Legion will supply crosses for people to add their own messages in memory of the fallen.