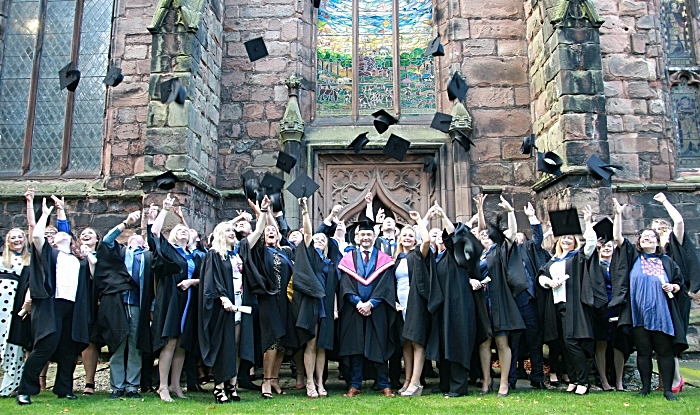 Successful graduates from University Centre Reaseheath have celebrated gaining their degrees at a graduation ceremony at St Mary's Church, Nantwich.
Watched by families and employers and applauded by passers-by, the graduates marked the completion of degrees in agriculture, business and events management, countryside conservation, equine science, food science and horticulture.
Among graduates were dairy technicians from Reaseheath's Eden training programme, a bespoke education initiative supported by companies in the dairy industry and aimed at producing world-class employees.
The companies collectively invest over £1 million each year into the development of their trainees and into Reaseheath's International Dairy Academy.
Newly appointed Principal and CEO Marcus Clinton told a packed audience that Reaseheath's specialist technical qualifications gave graduates the transferable skills and competitive edge to succeed.
A campus wide investment of £80m has resulted in the college having industry standard facilities and resources which were recognised as among the best in the country and designed to meet the future needs of employers.
The degrees were designed, resourced and delivered in partnership with relevant industries and graduates were poised to enter a sector where their skills would make them highly employable and able to take advantage of worldwide opportunities.
This investment, which would lead to an expansion of degree courses, had been supported by capital grants from the Cheshire and Warrington Local Enterprise Partnership.
Reaseheath students were also supported by a team of lecturing and technical experts who had wide experience in industry.
The graduates, who included part-time mature students looking for career progression, had studied for degrees validated by Harper Adams University.
Guest of honour was award-winning garden designer and TV and radio presenter Chris Beardshaw.
Nine graduates were singled out for excellence of their studies:
Special Recognition awards
• Jane Lucas (Outstanding Achievement in Undergraduate Research)
• Jodie Patterson (Academic Excellence Award in Equine Science)
• Michelle Hamill, Arla (National Skills Academy Award: Best Academic Student)
• Laura Moulding, Little Town Dairy (Society of Dairy Technology Award: Best Student Project)
The Dean's List for academic excellence
• Mary Ankers (Foundation Degree in Agriculture with Dairy Herd Management)
• Abigail Bore (Foundation Degree in Rural Events Management)
• Lucy Hinton (Foundation Degree in Countryside Conservation and Recreational Management)
• Jodie Patterson and Rhiannon Elsmore (BSc (Hons) Equine Science)
• Michelle Hamill and Laura Moulding (Foundation Degree in Dairy Technology)
• Adam Taylor (BSc (Hons) Landscape Management)
• Jane Lucas (BSc (Hons) Horticultural Science and Production Technology)