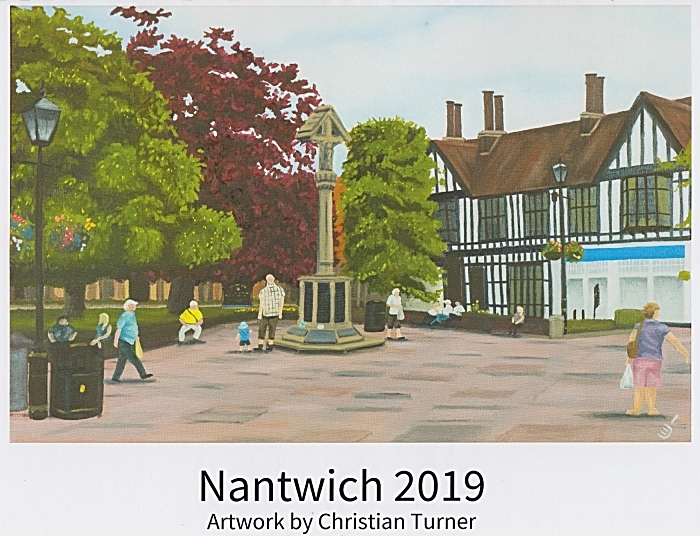 Talented South Cheshire artist Christian Turner has produced a Nantwich 2019 calendar, writes Jonathan White.
It is his first calendar of Nantwich and features his oil paintings of scenes within the town.
These include the Battle of Nantwich, St Mary's Church, Churche's Mansion, Pillory Street, The Cocoa Yard, The Bowling Green, Nantwich Aqueduct, The Crown Hotel, Sweetbriar Hall, Red Cow, Welsh Row and Christmas in Nantwich.
The Nantwich 2019 calendar can be purchased in Nantwich from the Nantwich Bookshop and Coffee Lounge (High Street), Special Cards (Market Street), Inside Paradise (Oat Market), Magpie Cards (Cocoa Yard), Nantwich Museum (Pillory Street) and also online https://www.christianturnerart.com/
They are priced £9.99 and 10% of all sales will go to Cheshire Arts for Health – a charitable organisation using the arts to improve mental health and wellbeing.
Christian, 24 and from Sandbach, said: "The Nantwich 2019 calendar would make an ideal Christmas gift for friends and family at home and far away."
Christian, who has autism, has also painted birds, marine life and geometric patterns.
He has been drawing since he was a child and studied A-Level Art at Sandbach School.
For further information visit https://www.christianturnerart.com/ or contact him via [email protected] , 07432116922 or Facebook http://www.facebook.com/ChristianTurnerArt
(words and pics by Jonathan White)