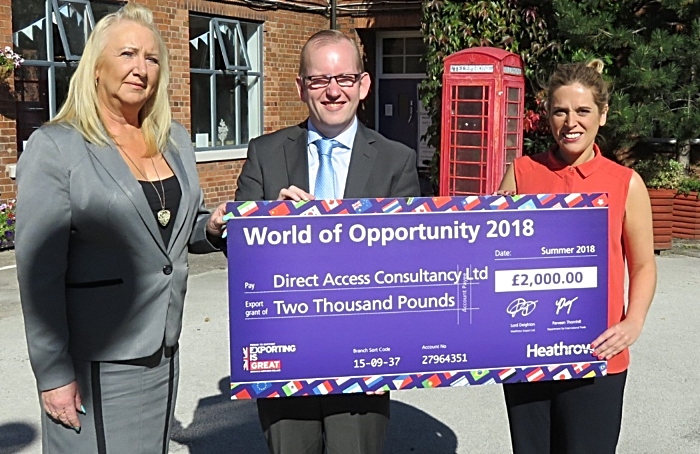 Nantwich business Direct Access Consultancy is one of the winners Heathrow's World of Opportunity grant programme.
For the second year, Heathrow has partnered with the Department for International Trade "Exporting is GREAT Campaign" to fund 20 SMEs and their exporting ambitions.
SMEs will be awarded a total of £40,000 to support international trade missions and foreign market research.
Direct Access is a global ability access consultancy that provides access audits and services to help clients meet obligations under the Equality Act 2010.
Winners will be offered guidance from DIT International Trade Advisers and may be put in contact with other international networks.
Stephen Dering, at Direct Access based on Regents Park, added: "We are very happy to have been awarded a Heathrow World of Opportunity export grant, which enabled Direct Access to attend the Dubai Hotel Show and to present at the Facilities Management Expo – on improving access for disabled people in the Middle East.
"Since we are a small firm, Heathrow's backing enabled us to reach more prospective clients than we would have had the resources to do.
"As a leading disability consultancy for over fifteen years in the U.K. we are delighted to be exporting British expertise into the Middle East."
Nearly 150 applications were received, and the winning entries were chosen by experts including Heathrow Chairman Lord Deighton and Parveen Thornhill, London and Devolved Administration Director for the Department of International Trade.
Laura Smith, MP for Crewe and Nantwich, said: "It is great to see the UK's global export hub airport, Heathrow, support our small businesses to build their presence in markets around the world.
"As a former small business owner, I know the challenges of a competitive marketplace; but Direct Access Consultancy have overcome these at an international level.
"Their positivity about the opportunities that exist around the world means they are now bringing investment to Crewe and Nantwich and I am very proud of their achievements."
Emma Gilthorpe, Heathrow's Executive Expansion Director said: "We're thrilled to be working with the DIT for the second year to support these entrepreneurs as they look to expand their businesses abroad.
"Our airport plays a crucial role connecting British people, goods and services to the world, and now with the World of Opportunity programme we're able to help these businesses as they begin their exporting journeys."
(Pic: Veronica Dawson, International Trade Adviser, North West DIT Team; Stephen Dering of Direct Access, and Laura Smith MP)