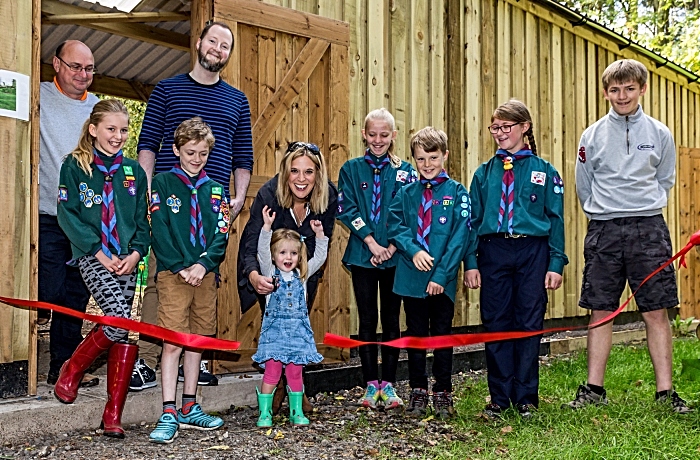 Scout groups in Nantwich will benefit from an expansion of the outdoor centre at Milldale, off the A51.
The South West Cheshire District Scouts campsite now has two new activity buildings which were unveiled.
These will provide new shooting and archery shelters, adding to facilities already used by hundreds of scouts across the borough.
The Milldale team received funding for the buildings as part of the Cheshire Leader Fund from the European Agricultural Fund for Rural Development (EAFRD).
Milldale, in Doddington near Nantwich, is set in over 23 acres of countryside and is open to all members of the scouting and guiding fraternity, community youth groups, local schools and colleges.
Crewe & Nantwich MP Laura Smith joined Scouts and Cubs from 7th SWC Millfields in Nantwich and Sean Bell from Cheshire Leader Fund for the official cutting of the ribbon ceremony.
Carl Shore, campsite chairperson, said: "We are always looking at how we can improve the campsite and facilities to enhance the young peoples experience.
"Though these buildings will be mainly used for archery and shooting, they do have the flexibility of being used for multi purposes and allowing scouts, community youth groups, local schools and colleges access to activities in any weather condition.
"By having these buildings it adds more value and appeal to the campsite."
Ms Smith said: "South West Cheshire is one of the largest and most successful Scouting areas in the country.
"Scouting provides countless local children with opportunities that may have been otherwise unavailable to them.
"Taking part in these activities can help boost their confidence, teach them about responsibility and develop their social skills.
"It's great to see that the South West Cheshire District continues to grow."
(Photo courtesy of Peter Robinson)