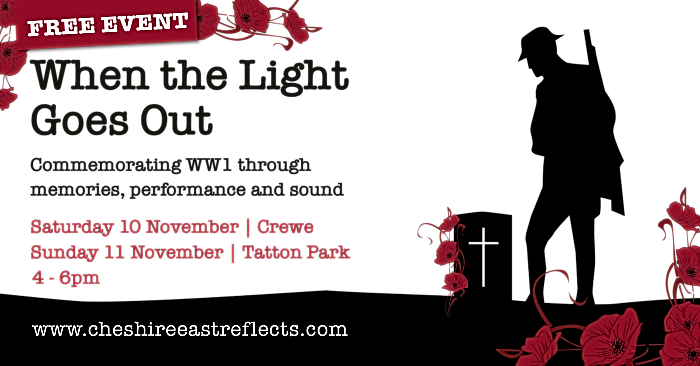 A four-year programme of activity to commemorate the First World War will come to a spectacular end in South Cheshire with two closing events taking visitors on a poignant journey back in time.
Cheshire East Council's "When the Light Goes Out" events – part of the Cheshire East Reflects programme – will take place on November 10-11 and will mark the centenary of the Armistice through memories, performance and sound.
Hundreds of residents have helped to plan the events which will take place in Crewe town centre and at Tatton Park, and reflect on the hardships, losses and untold stories of the First World War in Cheshire East.
Amber Knipe, of Dark Olive CIC, the events' creative producer, said: "The When the Light Goes Out events have been more than a year in the making and are completely unique to Cheshire East.
"They will be both moving and visually captivating, telling the stories of those who lived and served during the conflict in a way that has never been done before."
Led by professional theatre makers Yet Another Carnival, both events have been created by school children, groups and individuals from across Cheshire East.
The first event, on Saturday November 10, will take place in Crewe and feature a parade inspired by the town's 1918 Tank Week – part of a fund-raising campaign led by the government, which saw tanks touring England's towns and cities.
It will lead off from the Lifestyle Centre and continue around the town centre.
Amber said: "The parade explores the unknowns and hardships of war while celebrating the lesser-known stories of communities supporting each other and finding strength in adversity.
"It will have several 'pause moments' along the route where bands will play, stories will be shared and war bonds can be purchased."
The parade will finish in Memorial Square with a street concert featuring The Peace Choir of St Mary's Catholic Primary School, Crewe, and music from silver and brass bands including TCTC Group Band and Foden's Band.

The second event will take place at Tatton Park on Remembrance Sunday and will be a self-guiding promenade.
During the event, a large scale projection artwork will transform the front of Tatton Park Mansion into a ticking timepiece.
Created by digital artists Illuminos, it will feature hundreds of letters written by local school children.
The extinguishing of the commemorative flame, which has burned since 2014, will bring the event to a close.
Cllr Rachel Bailey, leader of Cheshire East Council, said: "These final two family events are sure to be especially moving and I encourage as many people as possible to go along as a means of paying their respect."
Both events are free to attend and will take place outdoor between 4pm and 6pm.
Visitors are advised they will contain poignant and moving material that some may find upsetting.
Partners who have helped on the Cheshire East Reflects programme include Imperial War Museum North, Royal British Legion, Big Lottery, Heritage Lottery Fund, Tatton Park, Crewe Town Council, Cheshire Archives and Local Studies Service, Cheshire Rural Touring Arts and Clonter Opera Theatre.
More information can be found by visiting www.cheshireeastreflects.com