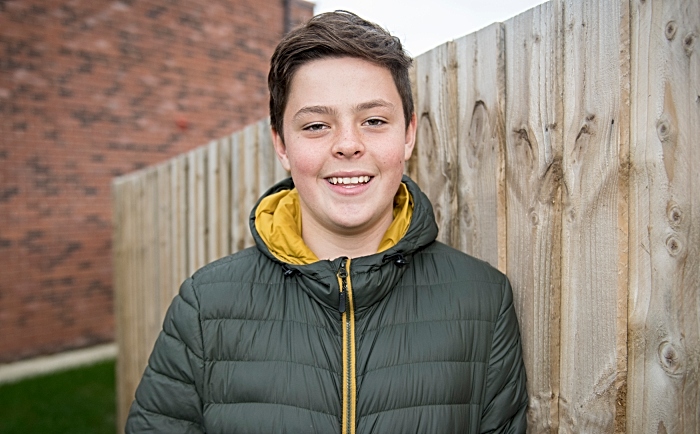 Nantwich teenager Joe Rowlands has been honoured in the Pride of Britain awards for his courageous rescue of his dad in a dramatic sea kayaking incident.
And a second Cheshire youngster – Max Johnson from Winsford – is also being honoured for his work in bringing a change to the laws on organ donation.
They were among stars celebrating the nation's unsung heroes at the prestigious Daily Mirror Pride of Britain Awards today (October 29).
Millions will tune in to watch as Joe and Max are among those recognised for amazing achievements of people up and down the country.
Hosted by Carol Vorderman, celebrities and public figures including Prince Charles, David Beckham, Simon Cowell, Ellie Goulding, Michael Sheen, Amanda Holden, the cast of Strictly Come Dancing, and members of the England football team will be honouring this year's awe-inspiring winners.
Joe, 14, a student at Brine Leas School, was honoured with the "Teenager of Courage" award.
We told the story earlier this year how Joe and his dad Paul, who live in Stapeley, took their kayak out for a paddle off the Anglesey coastline.
They were about a mile from shore when they got into difficulties and capsized.
Paul, an experienced kayaker and swimmer, realised their best chance of survival was to abandon the kayak and try and swim for it.
Joe reached safety first and clambered onto the rocks but after so long in the water his exhausted dad contracted hypothermia and passed out.
Risking his own life Joe dived back into the sea, swam to his dad and dragged him to safety where despite bleeding heavily from badly cut feet, he performed CPR until he came around and then kept him alive until the RNLI arrived two hours later.
Max Johnson, 10, from Winsford, has been honoured with the "Child of Courage" award.
Heart transplant patient Max was instrumental in changing the law on organ donation, potentially saving up to 700 lives a year.
He was nine when he was diagnosed with dilated cardiomyopathy. Doctors implanted an electric pump to keep him alive in the short term, but told his parents he would die
without a transplant.
He spent six months in hospital on the waiting list, and it was during this time he called on politicians to change the law to an opt-out system, which means consent to donate organs is presumed.
Last month, Prime Minister Theresa May declared Max's Law will be on the statute books by 2020.
She told him: "When I read your inspirational story, I knew I had to act to change the organ donation rules.
"While it will have to have a bit of a boring title when it goes through Parliament, I and my Government will call it Max's Law."
Pride of Britain host Carol Vorderman said: "I never fail to be humbled by those who have often turned a tragedy into something pretty magnificent."
The Daily Mirror Pride of Britain Awards, in partnership with TSB, will be broadcast on ITV on November 6 at 8pm.
Find out more about the Pride of Britain Awards 2018 here.