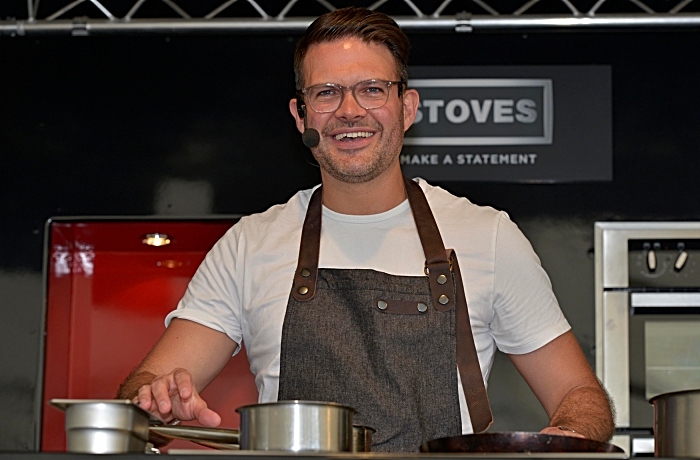 Britain's top chef Kenny Tutt says he can't wait to share his Christmas cookery tips with visitors to November's Foodies Festival at Tatton Park in Cheshire.
Kenny, winner of MasterChef 2018, has begun his Christmas countdown to appearing at the event over the weekend November 16-18 when more than 15,000 food-lovers are expected.
The festive-themed event will see Kenny share his culinary skills on stage in the Chef's Theatre alongside cooks from top Cheshire restaurants.
He said: " I was up in Cheshire for the Foodies Festival in the summer and there was such a great reception from local visitors.
"It rounds off an incredible year for me since winning MasterChef.
"I've demonstrated my favourite dishes at Foodies Festivals up and down the country and it's still so lovely to hear how enthusiastic people are about the show and my food.
"Cheshire was quite a highlight in July. The setting at Tatton Park is truly stunning and it will be fantastic to see it in its autumnal colours.
"Cooking for family and friends at Christmas is one of my most favourite things, so I can't wait to show off some of my seasonal recipes and chat about my fool-proof ways to do Christmas lunch.
"Look forward to seeing you there!"
Kenny will share his know-how for a stress-free Christmas for cooks in the family, including his signature dish goose.
And the Brighton bank manager who shot to fame on the BBC contest also reveals his favourite festive treat.
"I just love a leftover sandwich which I usually eat when I get a second wind on Christmas evening.
"Stuffed with roast meats, stuffing, roast potatoes, sprouts (yes sprouts) gravy and cranberry sauce.
"It needs to be on standard thick white bread with butter, fancy bread just doesn't work as well.
"I also go for a large glass of Baileys with lots of ice."
Other top chefs include Great British Menu winner Adam Reid, of The French in Manchester, and Aiden Byrne of the city's new 20 Stories Restaurant as well as Mark Fletcher of The Mere Golf & Spa and Steve Tuke from The Courthouse, Knutsford.
Making a popular return are Wholefood Warrior Eva Humphries and Burlesque Baker Charlotte White.
The festive theme continues with an Elf's Cookery School for children, music stage with Christmas carols and artisan market with more than 100 stalls selling mouth-watering food and gorgeous gifts.
Attractions include the Gin Alley, award-winning treats in Pudding Hall and Champagne Ski Bar.
Visitors can sample and buy tasty delights provided by dozens of food stalls from across the country, from prosecco to paella.
Festival director Sue Hitchen said: "Tickets for the festival are selling well especially in the VIP area where we welcome guests with Prosecco and provide goody bags.
"For regular festival-goers this is the start of Christmas and they like to make a weekend of it. We're so excited to be coming back to Tatton.
"There's no better backdrop for a Christmas-themed event. We' can't wait."
For more information and tickets, including VIP entrance, visit www.foodiesfestival.com