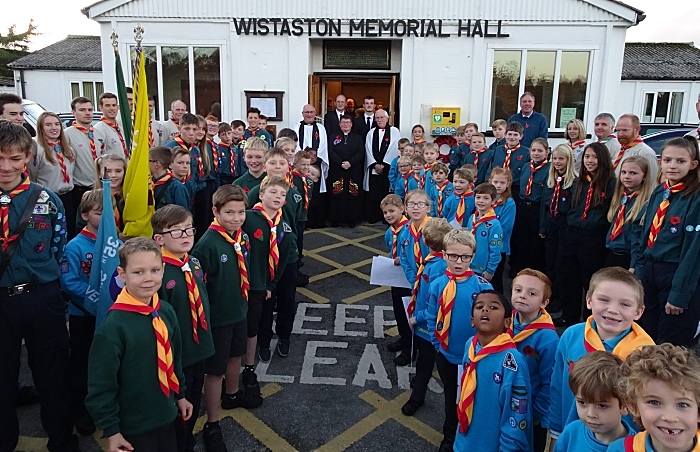 A Remembrance Day service in Wistaston helped to raise £357 for the Royal British Legion, writes Jonathan White.
Wistaston Memorial Hall and Community Centre on Church Lane were filled to capacity for the November 11 Service of Remembrance – the centenary of the end of First World War.
A guard of honour was organised by Beavers, Cubs and Scouts from the Wistaston Scout Group, who welcomed Parish Councillors from Wistaston.
The Service of Remembrance was taken by three local ministers – Rev Mike Turnbull and Rev Ken Sambrook (St Mary's Church) and Rev Den. Harding (Wells Green Methodist Church).
The poppy arrangement on the stage was displayed by Mrs Elizabeth Russell.
Diane Edge-Robinson, Vice Chairman of the hall's management committee, read a poem 'The Inquisitive Mind of a Child'.
The names of the 16 men from Wistaston who perished during World War One, as recorded on the Memorial Cross by St Mary's Church, were read by Barbara Brereton.
The Wells Green Church choir, led by musical director Myra Wood, added to the music and hymns.
Jack Gresty played 'The Last Post' and 'Reveille'.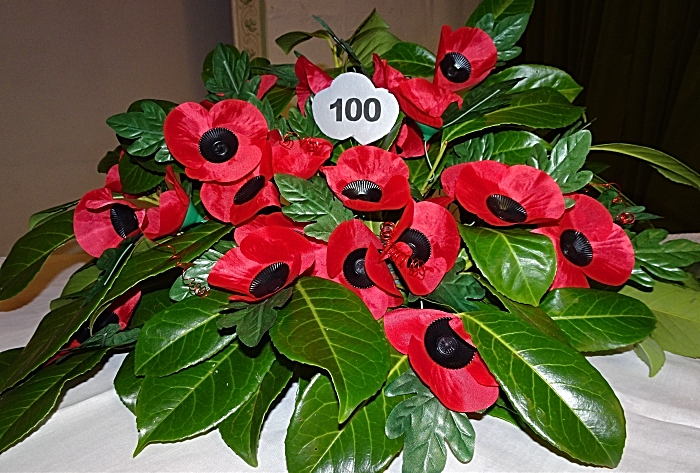 His great uncle Radio Officer Derek Aubrey Gresty died at Bari, Italy in 1944 aged 24 years in the Second World War.
Chris White played the ukulele and sang two songs sung by the soldiers in the First World War to remind them of home: 'It's a Long Way to Tipperary' and 'Keep the Home Fires Burning'.
A wreath was placed at the front of the building by the hall's President, John Cooke.
Scout George Edge-Robinson placed a cross in memory of Lieutenant Commander Roy Berryman Edwards DSO, sent by his daughter Sylvia Hammond, from Kent.
Chairman of Wistaston Parish Council Cllr John Moore read "In Flanders Fields" by Lt Col John McCrae MD, written in 1915.
As a Beaver at the service, Samson said: "We must always remember what the people did for us in world wars."
(pics by Jonathan White)