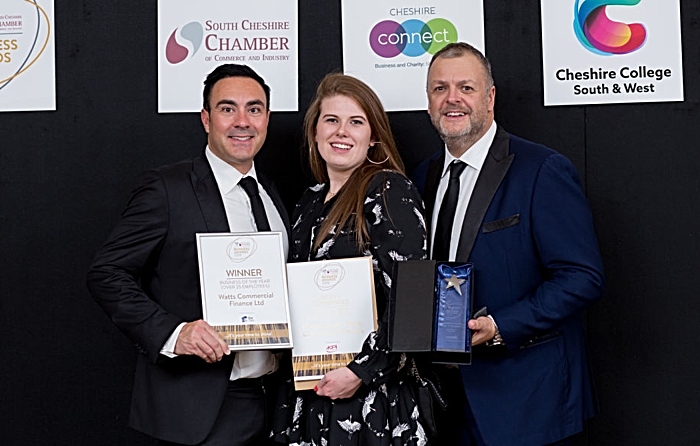 Three Nantwich firms are celebrating after scooping honours at the annual South Cheshire Chamber Business Awards.
Watts Commercial Finance won the outright Business of the Year 2018 at the event, now in its 22nd year.
Senior home care provider Right at Home South Cheshire, based on Hospital Street, is celebrating after scooping two awards.
It won Start Up Business of the Year and the Excellence in Customer Service Award.
And CE Back Office, based on Riverside, celebrated double honours after being shortlisted for two awards.
The company, which offers payroll services for Small and Medium sized businesses around the UK, was shortlisted in "Employer of the Year" and "Young Future Leader" categories.
The awards are held every year to celebrate the achievements of existing and new companies in South Cheshire, and was held at Crewe Hall.
Phil Gray, managing director of Watts Commercial Finance, said: "The calibre of entrants this year was exceptional and we were delighted to be crowned Business of the Year 25+ employees.
"We have had an exceptional 12 months – brokering and securing competitive products for our customers whilst growing our team by 45% and winning Commercial Mortgage Introducer of the Year at the Business Moneyfacts Awards in London earlier this year.
"I am tremendously proud of the team at Watts for their continued dedication and exceptional customer service and I am delighted that our hard work has been rewarded yet again by winning this award.
"Watts Commercial Finance are committed to the South Cheshire region – it's where we are rooted and where we plan to remain for years to come.
"Being crowned Business of the Year is testament to our commitment to help secure appropriate commercial finance solutions for our clients and allowing their business to prosper in the region and across the UK."
Right at Home South Cheshire owner Ben Selby went on to win another award the following evening, picking up the Home Care Team Award for the North West at the Regional Great British Care Awards in Manchester.
Ben said: "We are absolutely thrilled with these award wins.
"We are incredibly passionate about providing the highest quality care to our clients and it's great this passion has been recognised in the local business community as well as the care sector.
"We have an outstanding team of Care Givers who genuinely look to improve the quality of our clients' lives and these awards are a real testament to their hard work and commitment in trying to achieve this for each and every one of our clients and their families."
The company supports around 60 clients across Nantwich, Crewe, Sandbach, Alsager and surrounding areas and employs more than 40 CareGivers.
CE Back Office team member Abbi Piggott was shortlisted in the "Young Future Leader" category.
Firm director Emma Crowe added: "We're delighted to see another member of our team shortlisted for a Chamber award.
"It's a great way to celebrate Abbi's achievements at CE Back office whilst also celebrating the success of the business."
Director Andy Jones added: "The scalability of our business is built on the strength of our team.
"Therefore, employee engagement is essential to our growth strategy.
"We're proud to be shortlisted as one of the top employers in the area, it shows we are moving in the right direction and we look forward to pushing ourselves even harder for further growth and progression."