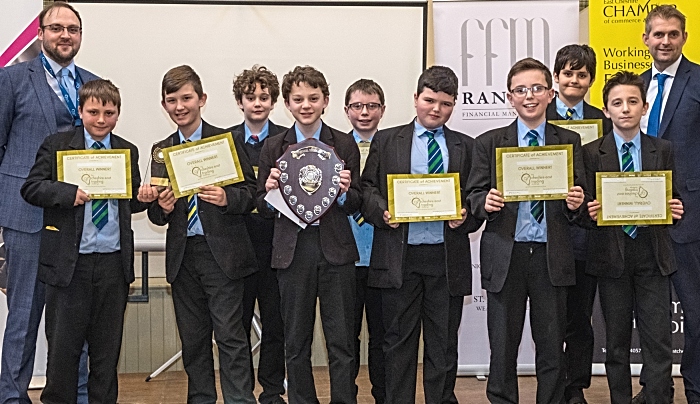 Pupils from Brine Leas in Nantwich and Shavington Academy cashed in after winning out in a schools stock market challenge.
More than 150 youngsters across Cheshire East took part in the trading challenge that put their financial skills and acumen to the test on a virtual stock exchange.
In partnership with local employers, teams of Year 7 students created investment companies and invested a virtual sum of £10,000 in 25 fictional businesses.
To make the investment decisions more challenging, each team had to respond to events on the day that impacted on the 25 businesses, including natural disasters and various economic crises.
It provided an interactive insight into the world of work and test their skills in maths, economics and business in a global context.
The inaugural event was developed by local employers including Franklyn Financial Management, SAS Daniels, Thrive Creative and East Cheshire Chamber of Commerce, in collaboration with Cheshire East Council's arms-length Skills and Growth Company's enterprise advisor network.
And the 'Prime Investors' team from Brine Leas Academy (pictured, above) won on the day after making more than a 50% profit from their trading.
Shavington Academy's 'Global Investments' team (pictured, below) were runners up.
Ben Dyer, co-founder and director of The Inspirational Learning Group, the team behind the delivery of the trading challenge, said: "Days like this are vital to increase our young people's life skills.
"Attributes such as teamwork, communication and resilience are critical to them succeeding and realising their true potential and it's great to be working with the Skills and Growth Company and the commercial partners involved to create such an inspiring day.
"We hope the participants have gained a lot from it."
Andrew Chatterton, managing director of Franklyn Financial Management, said: "We all are passionate about giving something back to help our young people gain new skills and first-hand experience of making investments and how businesses grow."
Cllr George Hayes, chairman of the Skills and Growth Company, said: "This has been a tremendous success and we are immensely grateful to all the local employers, who have given up time, funding and energy in helping make this event possible."