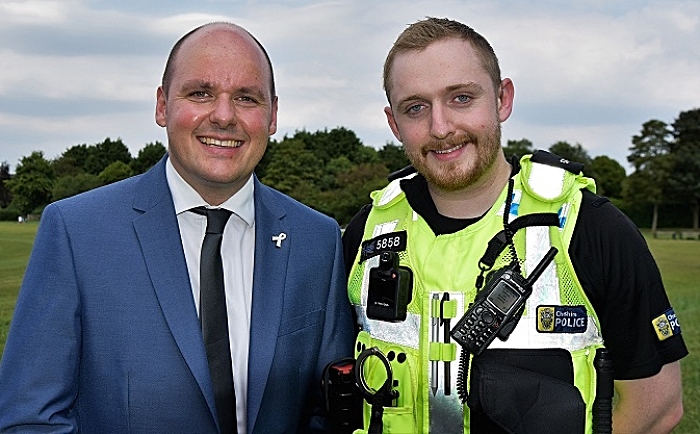 A total of 1,600 officers at Cheshire Constabulary are now using body worn video cameras following the completion of a force-wide roll out.
The cameras are being worn by officers and PCSOs and are proving to be an essential piece of operational kit.
They aim to promote public reassurance, prevent harm and often deter people from committing crime and anti-social behaviour.
In April 2018, Police and Crime Commissioner David Keane agreed to fund the purchase of high definition cameras for all frontline officers.
This followed on from body-worn video initially being introduced to Cheshire's firearms officers, Taser officers and football spotters.
There are now around 1,200 cameras and 200 docking stations across the force, meaning every officer who comes on shift has access to a camera.
The majority of officers wear cameras on their chest, with firearms officers sometimes wearing them on their headwear when deployed to an incident.
Since the full roll out began earlier this year, footage from cameras has been used to support charging decisions and examples of risks faced by frontline officers dealing with violent people.
Superintendent Luke McDonnell, who has led the roll out, said: "Body Worn Video is significantly improving the opportunity for officers to gather good evidence and we have already seen a number of incidents where it has been used to great effect.
"As well as supporting investigations, the footage has also helped clear up complaints we have had against officers and demonstrated the dangers our officers are facing when attending certain types of incidents.
"We are delighted that our frontline officers and PCSOs now have access to this valuable piece of kit to help them deal with the challenges of modern day policing."
Police and Crime Commissioner David Keane said: "There is no doubt this kit is providing extra protection for officers and the public by capturing assaults on police officers and other people on camera.
"It is also pleasing to see that since its introduction, body worn video has been used to support investigations which is ultimately saving a great deal of time and money for both Cheshire Police and the courts."