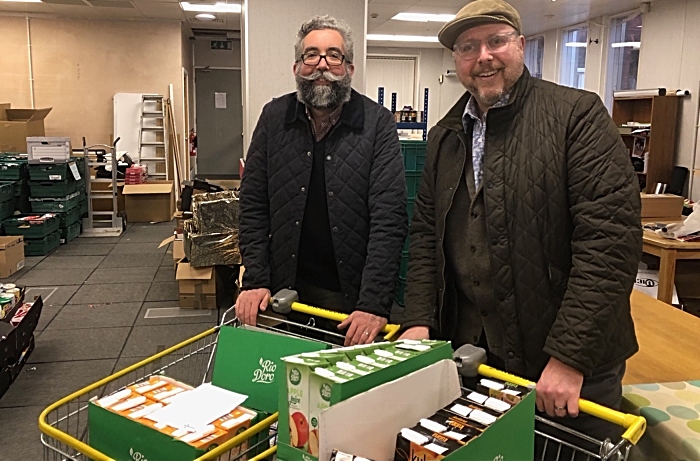 Organisers of the South Cheshire-based Gourmet Supper Club have teamed up with a newly-launched charity group to support Nantwich Food Bank.
More than 40 food-lovers flocked to the latest Supper Club event at Nantwich dining and entertainment venue 34 Pepper Street and £100 of the proceeds went to help the Food Bank.
Money was used to buy much-needed items of food and baby products after an urgent Facebook appeal.
Supper Club organisers Jonathan Welford and Rob Hardy, of Nantwich, are also officials with the new Crewe and Nantwich Lions (Branch Club) which chipped in with extra items.
Jonathan, who is the club president, said: "We were struck by the sad situation needy families find themselves in not only in the run up to Christmas but all year round.
"After sitting down to a sumptuous meal at 34 Pepper Street it pricked our conscience and we were there as quickly as we could with donations.
"The Food Bank movement is very close to our hearts and we were delighted to be able to help out."
Nantwich Food Bank appealed on Facebook for tinned cold meat, long life fruit juice, toilet paper and baby nappies.
Foodbank organiser Jane Emery said: "This donation will go a long way to helping families across the CW5 area.
"Last Friday we had run out of tinned cold meat and long life fruit juice.
"Some of our recipients do not even have the facilities to cook a meal, so pre-cooked meat can provide a simple source of nutrition.
"We also support rough sleepers who don't have the facility to cook by supplying tinned cold meat."
Crewe and Nantwich Lions (Branch Club) meets on Tuesday at local venues.
It formed in November and already has more than 20 members who are planning fundraising events and social functions. Newcomers are welcome.
For more information [email protected]
For more information on upcoming Gourmet Supper Club events visit gourmetsupperclub.co.uk
To support Nantwich Food Bank email [email protected]
(Pic: Jonathan Welford and Rob Hardy hand over much-needed items to Nantwich Food Bank)