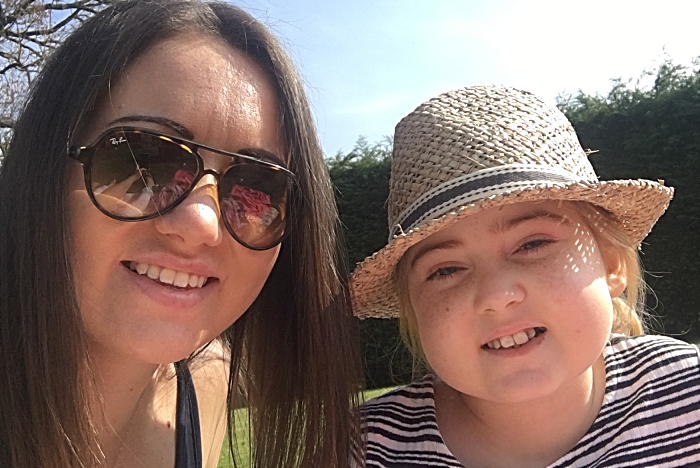 An inspiring film shows how Nantwich mum Becky Whitfield has been raising money for cystic fibrosis sufferers in memory of her daughter Elle.
The 31-year-old has worked tirelessly for the cause since Elle Morris died a few days after Christmas last year.
Stapeley Broad Lane pupil Elle touched people across the UK as the face of the Cystic Fibrosis Trust with her Elle's Wishes campaign.
But despite undergoing a double lung transplant in 2017, she suffered infections and died from the condition on January 3 after returning to Great Ormond Street Hospital before Christmas Day last year.
Elle's Wishes was set up by the 11-year-old in 2015 to raise funds to support The Cystic Fibrosis Trust's work fighting for life changing drugs to prolong the life of everyone with the life-limiting condition.
She became well known after her list of 10 wishes went viral in 2015 which included meeting celebrities Rita Ora and Olly Murs.
"People were in awe of her," said Becky.
"She was inspiring and had this contagious personality."
In the film "Remembering Elle", Becky said: "It was Elle's wish to see a cure for cystic fibrosis.
"She was everything you'd want your child to be – very cheeky, very happy, very smiley, very positive, very strong.
"The way people reacted with her – they were just in awe of her and constantly admired her.
"The day that Elle passed away, it was a relief to see her out of pain.
"Raising funds through Elle's Wishes gives me a purpose to carry on going."
Anne Shinkwin, director of fundraising at The Cystic Fibrosis Trust, said: "Our thoughts are with Becky and her daughter Cara this Christmas.
"Elle touched the lives of so many people and raised crucial funds for those living with cystic fibrosis.
"Her positivity and bravery continues to be an inspiration to all of us at the Trust.
"Elle didn't give up her fight against cystic fibrosis.
"That's why we are dedicated to campaigning for life changing medications and ground-breaking research into cystic fibrosis so we can transform the lives of thousands living with the condition."
To support Elle's Wishes text Elle to 70500 to donate £5
Watch the film Remembering Elle, below