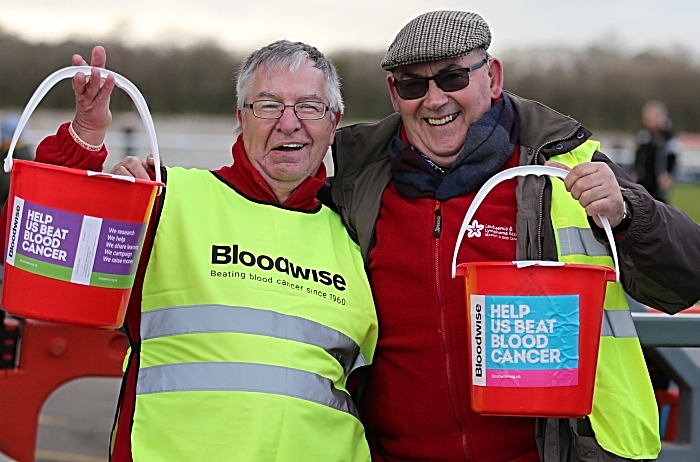 The South Cheshire branch of blood cancer charity 'Bloodwise' has raised money for the charity at three events in Nantwich, writes Jonathan White.
A coffee morning on December 15 was held at Nantwich Parish Rooms and raised £117.65.
A quiz at The Vine Inn, Hospital Street in Nantwich on December 20 raised £204.13.
And a charity bucket collection (pictured) at the Weaver Stadium before Nantwich Town's New Year's Day fixture against Witton Albion raised £186.72.
Events were organised by branch members Christine Dean, Ben Reinhardt and Mike Boffey for their help.
All money raised will go to blood cancer charity Bloodwise.
It will help fund research into all types of blood cancer and provide information and support to those affected.
Liz Boffey, from Bloodwise (South Cheshire), said: "Bloodwise South Cheshire Branch would like to thank Nantwich Parish Rooms, The Vine Inn and Nantwich Town Football Club for their continued support, which is much appreciated – the Nantwich Town supporters who were generous in their giving and Dan at The Vine Inn who set the quiz questions and is so enthusiastic in his support.
"All monies raised go directly into research of all blood cancers and great strides are being achieved in the fight to beat blood cancers."
For further information relating to Bloodwise, contact Liz Boffey on 01948871250, or visit https://bloodwise.org.uk/
Nantwich YFC Pantomime Week – 'Peter Pan' takes place from January 9-12 at Acton Village Hall.
Tickets are £10 for evening performances (7.30pm start) and £5 for the Saturday matinee (2.30pm).
Call 01270 624158 for tickets. Proceeds will go to Bloodwise and North West Air Ambulance.
(pic courtesy of Jonathan White)