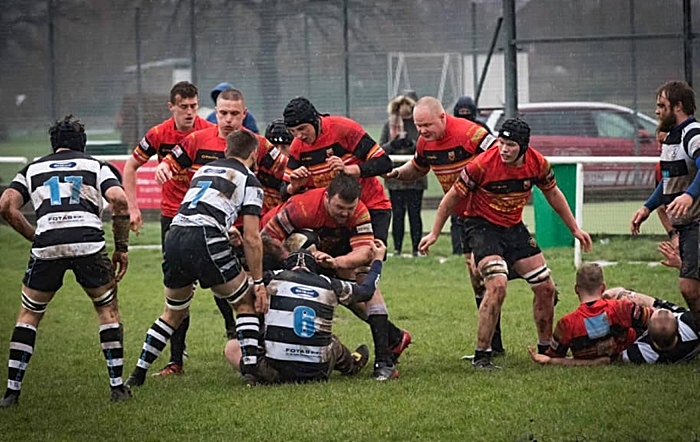 Crewe and Nantwich RUFC 1sts began the New Year in fine style with a powerful away victory at Camp Hill.
Their 28-37 win was the six consecutive league victory and moves John Farr's men up to fifth place in the league, just one place below Camp Hill.
Crewe started the game well and a series of drives from the forwards gave the backs space for vice captain Josh McShane to force his way over for a try converted by Jim Creighton, 0-7.
This early lead was reduced from the restart with a penalty for the hosts for 3-7 and a another penalty reduced the lead further, 6-7.
Crewe settled again and direct play was rewarded by three penalties all converted by fly half Creighton to build a lead of 6-16.
At this point, Crewe appeared to be well on top but a further penalty from the hosts reduced the score to 9-16.
The game turned on its head when a Crewe back move broke down and a clever kick through from the Camp Hill full-back put Crewe full-back Thom Vanstone under pressure.
It resulted in a penalty try and a sin-binning, to make the score 16-16.
And to their credit Camp Hill made the most of their extra man before Crewe had a chance to regroup, and their speedy winger went over under the posts for a 23-16 lead.
Crewe won a penalty late in the half which Creighton converted to make the score at half-time 23-19.
Crewe scored first in the second half, a penalty from Creighton reducing the score to 23-22.
And this was swiftly followed by a flowing back move from one wing to another and back again, leaving Vanstone to power over the line for a 23-27 lead.
A further penalty from Creighton built on Crewe's comeback to 23-30 and this lead was stretched when he spotted a gap in the host's defence to score a try that he converted for 23-37.
Camp Hill responded with a try late on but Crewe held out for the win.
They have tough game at home against second-placed Wolverhampton on Saturday, kick off 2.15pm.
Head Coach John Farr said: "A workmanlike win to kick off the New Year.
"It perhaps took us longer than we would have liked to settle into the patterns we were executing prior to the Christmas break.
"However, we found our heads eventually and dominated long periods of the game.
"Yellow cards could have proved costly but the boys showed their cohesive quality and ground out a useful win.
"Camp Hill were previously undefeated at home and that is testament to the way the boys performed. Good to keep the ball rolling prior to a crucial game at home to Wolverhampton this weekend."
Meanwhile, Crewe & Nantwich 2nd team put in a strong good preformance against an organised Helsby side, but eventually lost 8-49.
And the Junior Colts also narrowly lost out to Tarleton Colts, 29-37.
(pics of Junior Colts, by Sue Rideout)