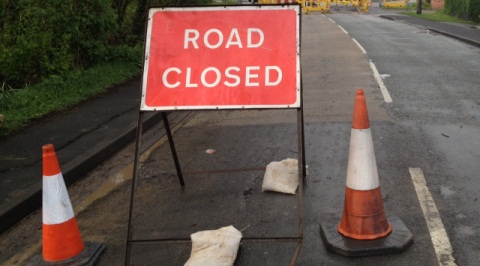 Nantwich drivers will be hoping the current works causing the closure of London Road do not overrun.
On the same day London Road is due to re-open – another busy Nantwich route, Wellington Road, will be closing!
Thousands of drivers have been caught up in peak hour driving misery every morning and evening due to the London Road closure. It is due to re-open on January 15.
But now notices are on display advising of the closure of Wellington Road in the town on Monday January 14.
The closure notice states it is to allow for United Utilities to carry out "replace manhole frame and cover in carriageway with permanent reinstatement".
Although the closure is only expected for part of January 14, the notice will be in place for five days in case works overrun.
And if the Network Rail level crossing replacement works overrun on January 14, the town will suffer even further gridlock.
A Cheshire East Council spokesperson told us today: "As a permit authority, Cheshire East Council works closely with third parties and utilities companies to facilitate essential road repairs and road closures.
"The council strives to ensure that disruption is kept to a minimum, that the safety of residents and road users is prioritised and that localised road closures do not clash.
"The council has been assured by Network Rail that they will have completed the work at the London Road level crossing by 6am on 14 January.
"The closure of Wellington Road has been requested by United Utilities and that closure permit does not come into force until 7pm 14 January.
"Therefore, the two road closures will not coincide and the council will closely monitor the situation to ensure that there is no disruption for road users and residents and the works do not overlap.
"Both these sets of works have to be done in the interests of public safety."
A spokesperson for Network Rail added: "Work is progressing well on site and the renewal work is currently on schedule.
"We have been working closely with Cheshire East Council on our plans for the work, and we are confident that our work be complete by 6am on 14 January."
(Pic by Jonathan White)