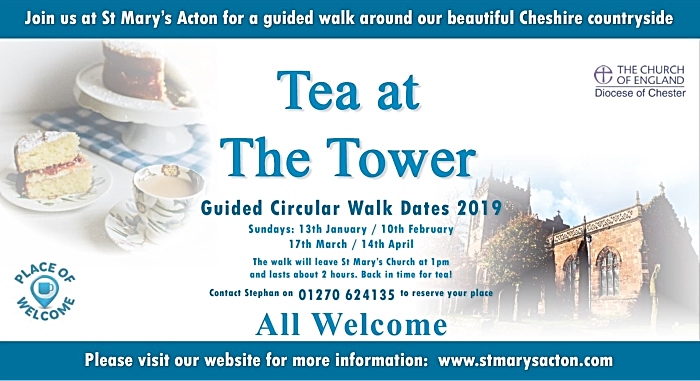 'Tea at The Tower' guided circular walks are re-launching in Acton near Nantwich after their success in 2018, writes Jonathan White.
They will take place each month from St Mary's Church, on Monks Lane.
They have been chosen to be good underfoot, do not involve climbing fences and are pleasant circular country walks of around two hours and four miles in length.
It will take participants through Cheshire countryside including the Dorfold estate and the Shropshire Union Canal footpaths.
The Lead Walker matches the pace to the groups level of general fitness.
A representative from 'Tea at The Tower' said: "The walkers always return happy about being out in the fresh air – and they are ready for something nice to eat and drink."
All walks start from St Mary's Church, Acton at 1pm.
Future dates are Sunday January 13, Sunday February 10, Sunday March 17, and Sunday April 14.
All are welcome. Donations are gratefully received.
'Tea at The Tower' weekly community cafe – where drinks and cakes are served – takes place every Sunday afternoon (2.30-4.30pm) throughout the year at St Mary's, Acton.
Visitors also have a chance to have a guided tour up the church tower as far as the ringing chamber.
For further information, contact Stephan on 01270 624135 or visit http://www.stmarysacton.com/