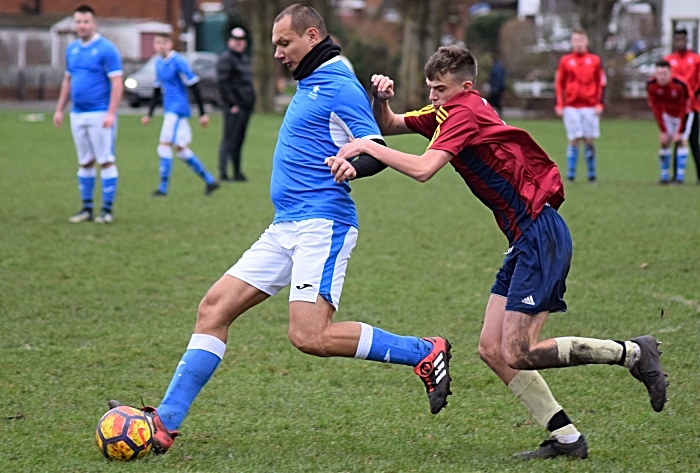 League leaders Square One beat Wistaston Leopard 3-2 in the Crewe Regional Sunday League Premier Division.
But they were given a shock when the visitors raced into an early 0-2 lead thanks to a brace from Rich Ryan.
Danny Dodd pulled one back before half time and Mike Blundell equalised very early in the second half.
Ricky Mellor scored the winner.
Salvador beat NHB 3-2 to move into second place ahead of Crewe Athletic, who had no fixture.
Stuart Evans got two goals and Kevin Sharp one for Salvador, with Peter Aidley and Peter Caine on target for the visitors.
White Lion Ford Lane went behind at Betley to a third minute goal from Jordy Cotterell.
They equalised with a Malcolm Bostock header, and went on to win 2-4 and move into fourth place, with further goals from Liam Whittaker, Ben Reddock and Danny Roberts. Simon Roberts was the other Betley marksman.
Elworth Park Rangers had a player sent off after only 20 minutes, which contributed to their going down 2-5 to Faddiley.
Keiron Duckers got both the Elworth goals, with Ashley Lawton, Richard Ford, Callum Hassall, Tom Bate and Connor Jones netting for the visitors.
Talbot and Willaston White Star drew 1-1, pictured.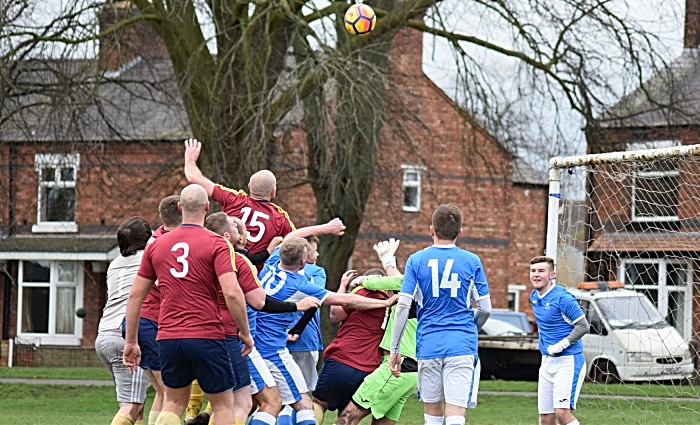 A Connor Perrie goal looked set to give Willaston the win, but Talbot equalised with the last kick of the game.
In Division One, leaders The Ark had a comfortable 1-7 win at Sandbach Town, being 0-5 up at half time.
Steven Hughes and Perry Bircumshaw both scored twice, with further goals from Richard Kitching, Josh Oakes and Matt Waller.
Regular marksman Dave Furber again netted for Sandbach Town.
Haslington move up to third place after their 7-1 win over Broadhurst FC. Owen Porter (2), Damian Sloan (2), Gary Pownall, Curtis Rodgers and Gareth Blackshaw netted for the home team with the Broadhurst goal coming from Simon Phillips.
Brighton Belle beat Sydney Arms 4-2 with a brace from Rastislav Riska and other goals from Ian Kennerley and Andy Leask.
Sean Owen scored both the Sydney Arms goals.
A solitary goal from Nick Harvey was enough to give Winsford Over a 1-0 victory against Audlem, and a James Webb goal meant White Lion beat White Horse by the same margin at a windswept Barony Park.
(Pics of Willaston White Star v Talbot, by Jonathan White)