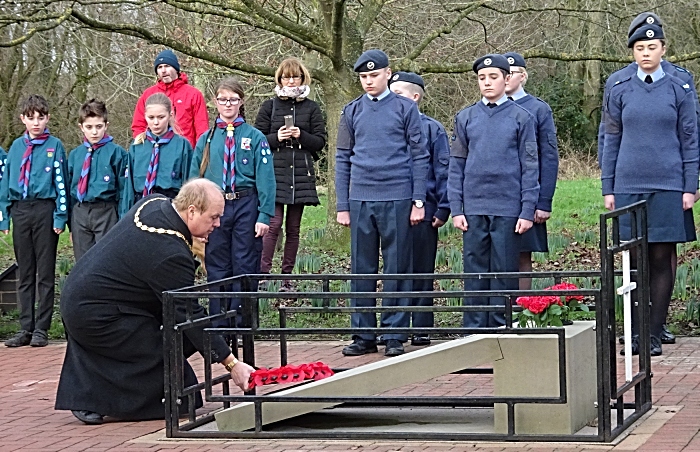 A moving 75th memorial service has taken place in Nantwich for First Lieutenant Arthur Leslie Brown, writes Jonathan White.
The service was held to remember First Lieutenant Brown of the United States Army Air Force (USAAF) at his memorial off Shrewbridge Road in Nantwich on Sunday to mark 75 years since his death.
On January 14 1944, First Lieutenant Brown died, aged 23, when flying a Republic Thunderbolt type P-47D, which plunged into soft ground on the banks of the River Weaver, behind houses in Shrewbridge Road.
The inscription on the surface of his memorial tablet reads: HERE LIES 1ST LIEUTENANT / ARTHUR L. BROWN / USAAF / AGED 23 YEARS / OF NEW YORK / WHO CRASHED / IN HIS THUNDERBOLT / TO AVOID THIS TOWN / JAN 14TH 1944 / WITH SYMPATHY AND RESPECT
The Memorial Service was led by Rector of St Mary's Church Nantwich Rev Dr Mark Hart.
It included standard bearers, the Last Post, a one minute silence, Reveille, and the laying of wreaths.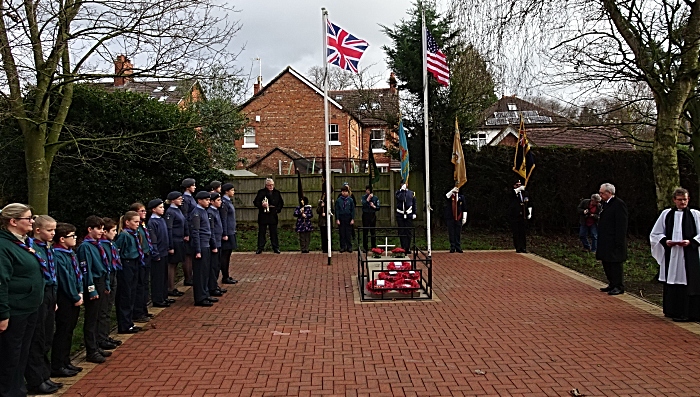 Wreaths were laid by Mayor of Nantwich Councillor David Marren of Nantwich Town Council, Nantwich & District Branch of The Royal British Legion, Nantwich branch of The Cheshire Regiment, 7th South West Cheshire (Nantwich/Millfields) Scout Group, and 4th Nantwich Brownies.
Among others present were John Dwyer, Chair of the Nantwich Branch of the Royal British Legion; Phil Reade of the Royal British Legion, Parade Marshall, Jack Gilbert of the Royal British Legion; Councillor Penny Butterill and Alderman Doug Butterill; Councillor Andrew Martin; Sgt Ian Bennett, PC Marc Harley, PC Matt Stonier; former Nantwich Town Clerk, Riddle Graham, and representatives of the Civic Society and Litter Group.
Nantwich Mayor Councillor David Marren said: "The commemorative service was moved from Armistice day this year because the Town Council and British Legion felt it would be more appropriate to hold a service on the nearest Sunday to January 14, which 75 years ago was the date of the accident.
"I was very pleased to see that a substantial number of people had turned out for the service in commemoration of Lieutenant Brown because we promise not to forget those that fell in wartime and in defence of our nation.
"Lieutenant Brown's sacrifice is not forgotten."
(pics by Jonathan White)