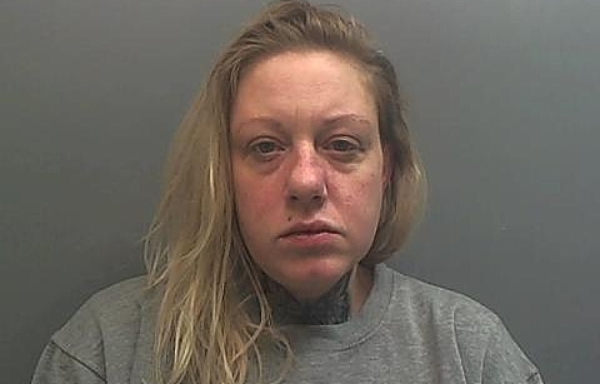 A South Cheshire woman who deliberately ran over two other women as part of a revenge attack has been jailed.
Kim Venables (pictured), of Elizabeth Street, Crewe, was sentenced to nine years and nine months in prison at Chester Crown Court yesterday (February 4).
The 39-year-old had earlier pleaded guilty to charges of causing grievous bodily harm with intent and attempted grievous bodily harm with intent.
She was also disqualified from driving for five years and ordered to take an extended retest.
The charges relate to an incident which happened on Saturday January 5 after Venables had arranged to meet one of the victims at The Raven pub, in Crewe, so that the pair could settle a long-running dispute.
The 20-year-old woman agreed to the meeting and shortly after 1.15pm she went to the pub on Brookhouse Drive with a 30-year-old friend, the second victim.
Venables arrived with a 36-year-old woman and the group were subsequently involved in a verbal altercation.
Following the disagreement, the 20-year-old and 30-year-old women were both collected from the pub and dropped off on Davenport Road near to Smallbrook Walk.
The pair then began to walk towards Smallbrook Walk when they noticed that a black Ford Focus, driven by Venables, had mounted a pavement and was driving towards them at speed.
They attempted to move out of the way but were unable to do so and were both hit by the car.
The impact of the collision caused the 30-year-old to be thrown into the air and suffer multiple fractures to her right leg.
The 20-year-old suffered minor injuries as a result of the incident.
Following Venables' sentencing, Detective Inspector Claire Jesson said: "This was a horrific attack which will impact the victims for the rest of their lives.
"While their injuries may heal, they will never be able to forget what happened to them on that day and the sentence handed to Venables reflects the severity of her crime.
"Venables used the car as a weapon and was intent on harming the victims – she smirked at the pair as she drove away from the scene.
"I hope that the conclusion of this case will allow the victims to move forward with their lives and I would like to thank the local community for all the help and support they provided throughout the investigation."
A against a 36-year-old woman initially charged with assisting an offender has been discontinued.