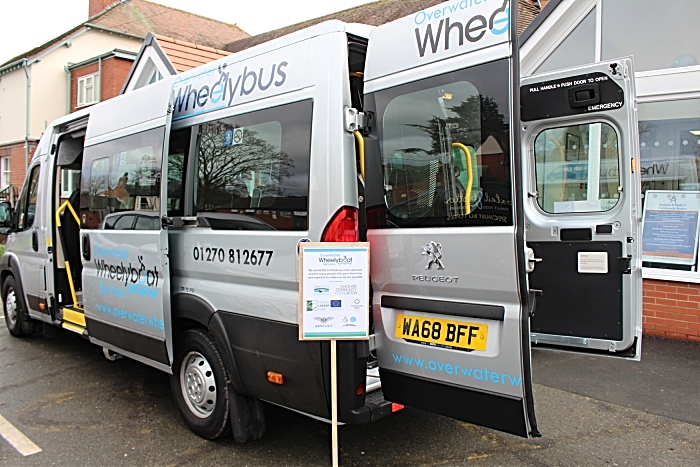 More than 100 people attended the official launch of the Overwater Wheelybus in Audlem near Nantwich.
The Wheelybus is a project led by Rodney Cottrell and wife Christine, who have operated the Audlem Lass, the Overwater Wheelyboat and now the Overwater Wheelybus over the past eight years.
Janet Maughan, President of the Overwater Wheelyboat Services and co-owner of Overwater Marina, kicked off the official launch.
She said: "This is a tremendously proud moment for both Overwater and Rodney and his team of volunteers.
"The work and effort which has gone into raising funds for the Wheelybus is second to none.
"I am very excited about the future of the Overwater Wheelyboat Services."
Rodney Cottrell, chairman of the Overwater Wheelyboat Services, provided a history of the Audlem Lass Boat Service and Wheelyboat Services.
The Audlem Lass provides boat trips from Overwater Marina to the bottom of the Audlem Flight of Locks every weekend from Easter to the end of October.
It is crewed by volunteers in aid of the RNLI.
More than 37,000 people have travelled on the Audlem Lass boat, raising around £16,000 for the RNLI.
The Overwater Wheelyboat provides for passengers with disabilities.
It launched with the support of the Wheelyboat Trust as well as other sponsors such as Comic Relief, Cheshire Community Action, Ableworld and individual contributions.
Since its launch, the Wheelyboat has provided trips around the Marina to Lock 15 and along the Shropshire Union Canal as far as Hack Green for some 1500 people.
In early 2017, the team identified a need for a means to transport people from their homes or care homes to the boat and The Overwater Wheelybus Project was born.
Rodney and his team raised more than £35,000 to buy a minibus for carrying wheelchairs and less able passengers.
This was achieved with the help of Cheshire LEADER, the Big Lottery (Awards for All), the High Sheriff of Cheshire's Charity Fund, Car Transplants, Cheshire County Foundation and many others.
Those attending the launch were Antoinette Sandbach, MP for Eddisbury; Cllr Rachel Bailey, Leader of Cheshire East Council; Andy Beadsley, director of the Wheelyboat Trust; Alexis Redmond, High Sheriff of Cheshire; Lesley Smethen, Mayor of Cheshire East; and the Reverend Helen Chantry.