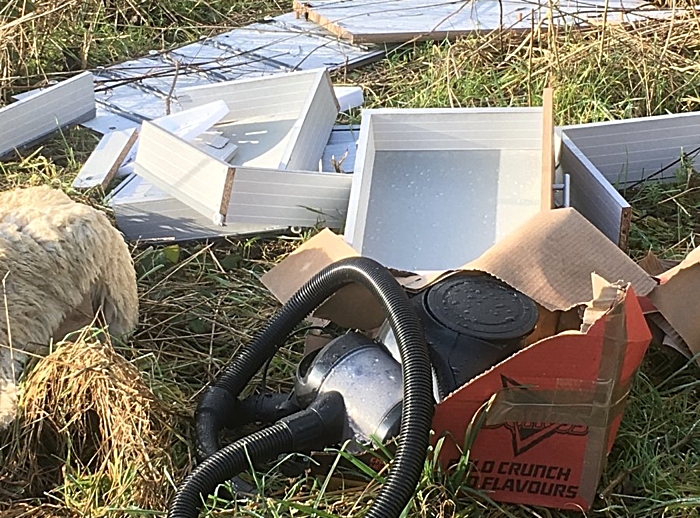 Fly-tippers have dumped a pile of rubbish just yards from the airman's memorial in Nantwich.
The rubbish was found dumped by walkers earlier today close to the site by the River Weaver, off Shrewbridge Road.
Among the pile is scrap furniture, electrical appliances, rugs and cardboard boxes.
Angry residents blasted those responsible, while Nantwich Police called it "as disgusting as it is disrespectful".
One eye-witness who found the rubbish said: "It's just three or four metres from memorial. At back of car park. It has definitely been dumped!
"I saw it after work on Thursday and was surprised to see yesterday and today it was still there.
"I walk there often, lots of footfall with dog walkers, families etc starting walk along river or towards lake.
"I've never seen a fly tip around lake before, but it is easy to dump here unfortunately."
Mayor of Nantwich, Cllr David Marren said: "It's sad we have people in our society who have not the slightest bit of consideration for others, people who are simply selfish and morally bankrupt.
"It is disappointing in the extreme that a memorial grave for 1st Lieutenant Arthur L. Brown, who gave his all for the people of Nantwich in WW2, which was commemorated only a month ago, should be dishonoured in this way.
"We all have a part to play though. This is the waste of a cowboy so-called builder who should have a waste carrier licence which householders should ask to see before their builder's waste gets taken away from their property.
"Equally, Cheshire East Council can demand to see the waste carrier licence of builders and can actually stop vehicles carrying waste to check the licence.
"If we want to stop cowboys dumping rubbish a good start would be for householders to be more attentive and Cheshire East Council to introduce regular vehicle checks on all businesses that transport waste.
"In the meantime the culprit of this illegal tipping should hang his or her head in shame."
The incident has been reported to Cheshire East Council. We are awaiting a statement.
The airman's memorial is in honour of First Lieutenant Arthur Leslie Brown, who died when his plane crashed into the banks of the Weaver behind houses on Shrewbridge Road in 1944.
A service was held four weeks ago to remember First Lieutenant Brown, of the United States Army Air Force (USAAF), to mark 75 years since his death.
Dignitaries including Nantwich Town Mayor Cllr David Marren laid wreaths in his honour at the service.