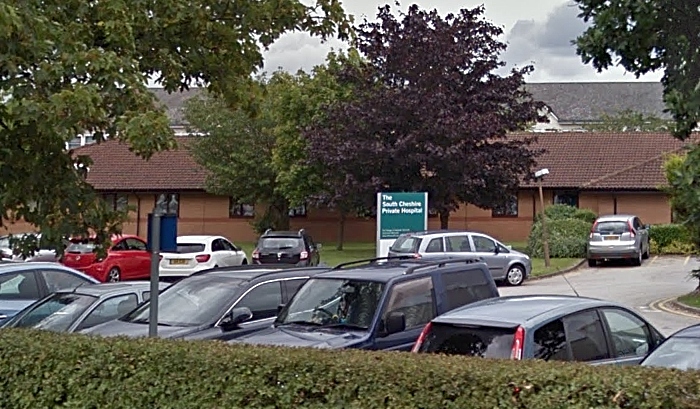 Mid Cheshire Hospitals NHS Foundation Trust, which manages Leighton Hospital, is bidding to take over South Cheshire Private Hospital.
The private hospital, in the grounds of Leighton, is currently run by BMI Healthcare.
The deal would see MCHFT take over the running of the hospital and continue to offer and develop services for private patients.
Mark Oldham, Director of Finance and Strategic Planning at MCHFT, said: "The acquisition is great news for staff from both organisations, as well as the local population.
"Private patients will continue to benefit from the excellent outpatient and inpatient facilities at South Cheshire Private Hospital, such as ensuite rooms, while being able to access a wider range of services and facilities at Leighton Hospital.
"All patients will also benefit from the additional funding that the private hospital will bring, as it will be reinvested locally into both private and NHS services."
Wyn Davies, Executive Director at the South Cheshire Private Hospital, said: "We and MCHFT share the same priority of delivering excellent patient care, and both our staff and Leighton Hospital are committed to that.
"We have always enjoyed a close working relationship, and our staff will continue to work well together under the proposal to move SCPH to the Trust's ownership."
MCHFT provides SCPH with clinical support services, and many of the Trust's consultants work across both sites.
The deal would allow the hospitals to work closer together.
MCHFT is working through necessary due diligence checks before the transfer can take place.
This will include a period of staff consultation so both staff and patients experience a seamless transfer of services.
Patients who currently have appointments at the South Cheshire Private Hospital will continue to be seen in the usual way.
Wyn Davies added: "We are working very closely with MCHFT and are both committed to a smooth and safe transfer of staff and services.
"I'd like to thank the staff at South Cheshire Private Hospital for their care and commitment to the people of Cheshire over recent years."
South Cheshire Private Hospital is a 32-bedded independent hospital that has two operating theatres, a consulting suite with ten consulting rooms, and a minor procedures room.
(pic courtesy of Google Street View)