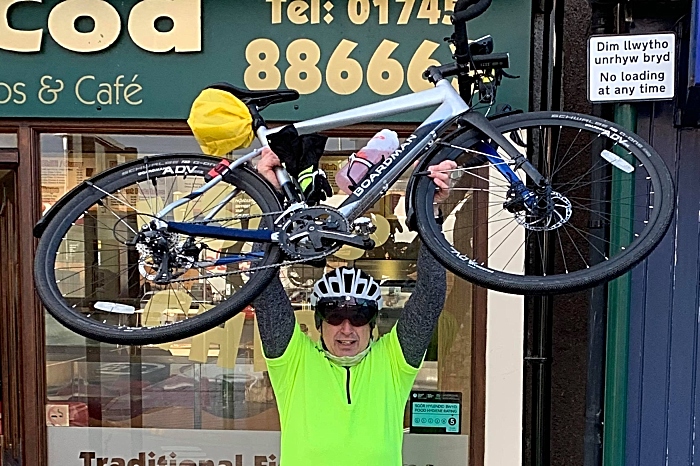 Crewe man Roy Price is on schedule as he prepares for a 900-mile charity ride from Land's End to John O'Groats (LEJOG) in May, writes Jonathan White.
His ride is to raise money for cancer charity The Joshua Tree, which supports North West families living with life-changing experience of childhood cancer.
And 51-year-old Roy has completed his longest training ride yet, riding 50 miles from Crewe to Prestatyn in North Wales.
He chose a date in February to do it as it marked one year since his wife Ruth Price died from secondary breast cancer.
He finished he ride at 'Crispy Cod' in the town – a café Ruth liked to visit.
Roy has been raising money in memory of his wife for the past 12 months.
Along with friends and supporters, he has already raised more than £8,500 for local charities via wheelbarrow pushes, a garden party, a charity night, a tombola, a raffle and by Roy hiking up Mount Kilimanjaro – the highest mountain in Africa.
Roy is being supported during his training and during LEJOG by Rob Simpson, from Simpson & Edge Garage in Nantwich.
The Railway Hotel in Nantwich has sponsored Roy's cycle clothing and Rob's crew clothing.
After his ride to Prestatyn, he said: "The weather was absolutely horrendous when I set off, as it was raining quite heavily, and the wind was strong too.
"Plus, I'd only got as far as Wardle when I hit a huge pothole, which blew my front tyre and nearly threw me off my bike!
"Fortunately, Rob Simpson was behind me in the support van and helped me change my wheel.
"Despite jolting my neck and back I decided I was OK to carry on.
"A section of the route took me along the Chester Millennium Greenway, which was scenic, but for several miles I was against a very strong wind, it really was like being on an exercise bike!
"I had to make regular stops to take on fluid as it was so windy it was dangerous trying to take a drink whilst I was moving.
"I was tired but elated when I made it to Wales.
"However, it will help in my fitness for Land's End to John O'Groats."
To donate to Roy's Land's End to John O'Groats fundraising ride visit https://uk.virginmoneygiving.com/RoyPrice2