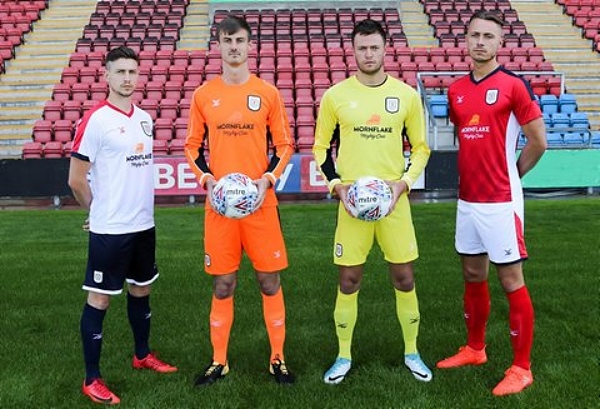 Crewe Alexandra have netted another year of support from its neighbours Mornflake.
The manufacturers of 'Mighty Oat' breakfast cereals has marked its 15th year as Railwaymen shirt sponsors by underlining its commitment to the South Cheshire community.
The company, one of the area's largest employers, has operated its mill on Gresty Road since the war years when it played a vital role in feeding the nation wholesome British oats.
Generations of millers have supported the club which has brought football to the heart of Crewe since it was founded in 1877, named after Princess Alexandra.
This summer Crewe Alex will unveil another new-look strip bearing the Mornflake branding.
Club secretary Alison Bowler said: "Our shirt partnership with Mornflake is one of the longest running in the English Football League and the company is our oldest sponsor.
"We are proud of the fact they have been our main sponsor since the 2005/06 season and we appreciate their loyalty and dedication to Crewe Alexandra and the local community.
"Our partnership is more than just sponsorship, from the outset it has been about working together with the supporters and communities.
"We have enjoyed many highlights of this partnership so far, including two wins at Wembley and we look forward to many more.
"We are excited to be able to continue this partnership with Mornflake and we can only thank them for again extending their agreement with us.
"We look forward to building on our already successful relationship."
Family-run Mornflake also helps fuel the legs of Alex players with breakfast products before training.
It encourages healthy lifestyles from a young age and remains a long-standing supporter of the Alex Soccer Centre where more than 4,000 children are coached in football skills each week.
It backs the UK Triathlon series which begins with a big event in Nantwich in May.
Company marketing manager Richard Jones said: "Many Mornflake employees are loyal fans of the Alex going to home and away matches.
"And like Mornflake, the club has a long history in Crewe and is part of a local heritage we look to support."
The firm employs 300 local people and its roots in South Cheshire are celebrated on products and signs on main roads into Crewe.
For more information on the Mornflake story in Cheshire visit www.mornflake.com
(Pic: Players Shaun Miller, Ben Garratt, Dave Richards and George Ray in the Mornflake home and away strip)