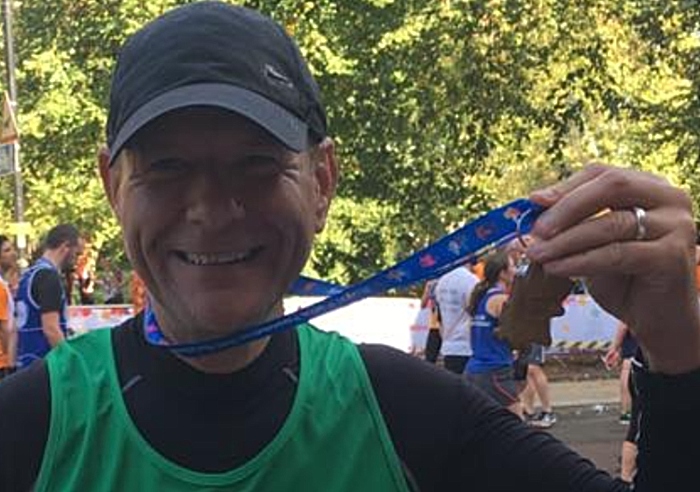 Nantwich man Simon Richardson has suffered more bereavement in the last three years than most do in a lifetime.
But now he's fighting back by tackling three Marathons to raise money for Cardiac Risk in the Young (CRY).
And the 48-year-old is calling on help to raise funds as he bids to take on London Marathon, Paris Marathon and New York Marathon in 2019.
Since 2016, Simon has seen three members of his family and two best friends die.
Father-of-two Simon, who moved to Nantwich 20 years ago from Leeds, said: "Everybody has their ups and their downs and over the past few years we as a family have had plenty to deal with.
"A good close friend of mine Kev Parr died from terminal cancer, hence the "Challenge 48" I completed during 2016 for Macmillan Cancer Support.
"I completed 48 half marathons from May to October 2016 – running my 48th half marathon in London "Royal Parks half"
"I also ran in the London marathon in April 2017. I raised with the help of family, colleagues, friends and the general public, almost £4,000 for Macmillan Cancer Support which was in my opinion a fantastic achievement."
Sadly, more tragedy was just around the corner when Simon's sister in law was diagnosed with breast cancer in 2017, and then in 2018 February, his best friend Paul Parton collapsed at home and died aged just 49.
"He was found on the kitchen floor in his home by his father in law while his daughter was asleep upstairs," recalls Simon.
Just three months later, his brother-in-law Stuart Truscott collapsed at home and passed away on the way to hospital, undiagnosed issues with his heart.
"His partner of over 30 years, his three children, my wife and I and his huge extended family miss him dearly."
In October of the same year, his sister in law's nephew died aged only 24.
And last month, Simon's mother in law collapsed and died at Leighton hospital of a heart attack.
"2018 and the early part of 2019 were terrible for us," he adds.
"And whilst we can do nothing to change what's happened I want to help a charity.
"The main reason I choose CRY was mainly down to our family in Alsager.
"My wife lost her brother last year on May 1 aged only 46, reasons being an undiagnosed heart condition.
"He was great and a fit and healthy guy so this came as massive shock and will be hard to comprehend for many years.
"Even though he was only 46, CRY was in contact with the family and urged the family to be screened at one of there national screening destinations, which they immediately organised.
"I wanted to do something to raise awareness and asked my brother in law's partner of over 30 years Ellen for a chosen charity they'd like me to run for and they immediately said CRY.
"I then went onto applying to them to obtain a place in the London marathon 2019 which they honoured.
"I'd already obtained a place in the Paris marathon so I pledged to run this on behalf of CRY.
"Then I applied through an international tour operator offing a place for the New York marathon.
"Hence, my three marathon challenge this year for CRY!
"I want to raise awareness and as much money as I possibly can.
"Currently I've raised just under £1,300."
Simon's giving page can be visited here https://uk.virginmoneygiving.com/SIMONRICHARDSON15