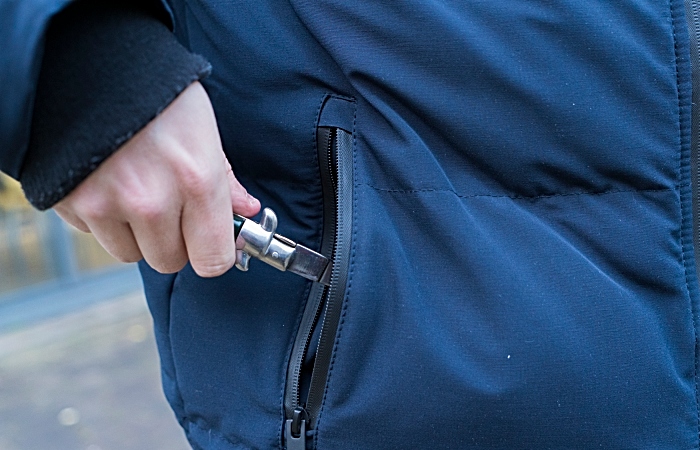 Cheshire Police are working with partners as part of the national Operation Sceptre campaign to tackle knife crime.
It is a week of action that runs from March 11 to 17 and aims to reduce the impact of knife crime in communities.
Cheshire, which has one of the lowest rates of knife crime in the country, has seen an increase in violent offending.
Officers will be out on patrol using stop and search powers to target those suspected of carrying a knife.
They will be visiting the homes of juvenile offenders, taking part in knife sweeps, visiting schools to talk to pupils and visiting businesses who sell knives, and those involved in the night time economy to offer advice.
In addition in Crewe, Congleton, Runcorn and Widnes Police Stations there will be knife surrender bins available for people to discard knives throughout the week.
David Keane, police and crime commissioner for Cheshire, said: "We've seen the devastating impact knife crime can have on victims and their families up-and-down the country.
"There has also been a number of incidents in Cheshire where people have lost their lives or been seriously injured in vicious knife attacks.
"Across Cheshire, we've also seen an increase in the number of individuals who are stashing knives in public areas, in places like bushes and overgrown areas.
"Police in Cheshire will also not tolerate this behaviour and are already working with partners to carry-out knife sweeps to remove knives from local communities.
"I am working with Cheshire Police to reduce the number of dangerous weapons on our streets.
"The message we need to send to our communities is that carrying a knife or concealing a knife is a crime and the use of dangerous weapons can quickly escalate a minor issue into something much more serious and potentially life threatening."
Family and friends who know someone who is carrying a knife are being urged to report it.
Superintendent Richard Rees said: "The importance of this message getting across to young people has been highlighted by the tragic events we have seen in the local and national media recently which is why we are visiting youth offenders and schools to try and drive home the dangers of knives.
"We will also be using our powers of stop and search where appropriate.
"Our officers will be working with shopkeepers to stop the sale of knives to under 18s as part of the initiative.
"The law is quite simple. If you carry a knife in public, without a reasonable excuse, you are facing a prison sentence."
Anyone with information can contact Crimestoppers anonymously on 0800 555 111, or alternatively call Cheshire Police on 101.