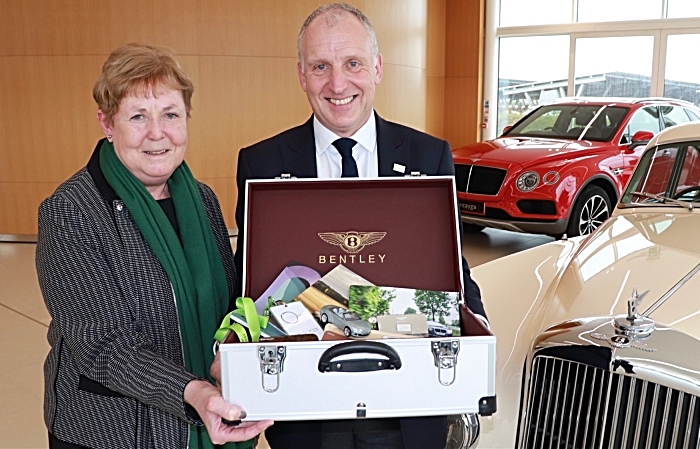 Leading luxury car manufacturer Bentley have created a bespoke memory box for people living with dementia in Cheshire.
Specialists from the Crewe factory lined the box with leather and gold embroidery with their world-renowned precision.
The box was then filled with swatches of leather, walnut and carpet, pictures of vintage Bentley cars and even a sample bottle of the new Bentley cologne.
The Bentley box will now be used at Deafness Support Network's You, Me and Tea Cafe's which are held to help socialise and stimulate those living with dementia in various locations across East Cheshire.
Di Riley, co-ordinator of the You, Me and Tea Cafes said: "The box is more than we could have ever wished for and I think this will definitely be very popular with our attendees."
The monthly cafes use interactive games, activities and exercises to help those with dementia remember aspects from their long-term memory – the element of the brain which is usually relatively preserved in early stages of Alzheimer's dementia.
Di added: "Bentley is such a significant part of the memory of the people of East Cheshire, and some attendees may well have worked there or known someone that did too.
"It will certainly create a valuable talking point for those attending."
Karl Shirley, Head of Bentley Experience, said it was an 'honour' to have created something with such significance for the community, especially during Bentley's centenary year.
"It felt only right when we were given the box to fill, that we made the interior special too with our dark red leather and gold embroidery," said Karl.
"We are looking forward to hosting a cafe here in the showroom in the future and we hope the box goes a little way to help the attendees remember forgotten times."
(Pic: You, Me and Tea project co-ordinator Di Riley with Karl Shirley at the Bentley showroom in Crewe with the bespoke Memory Box)