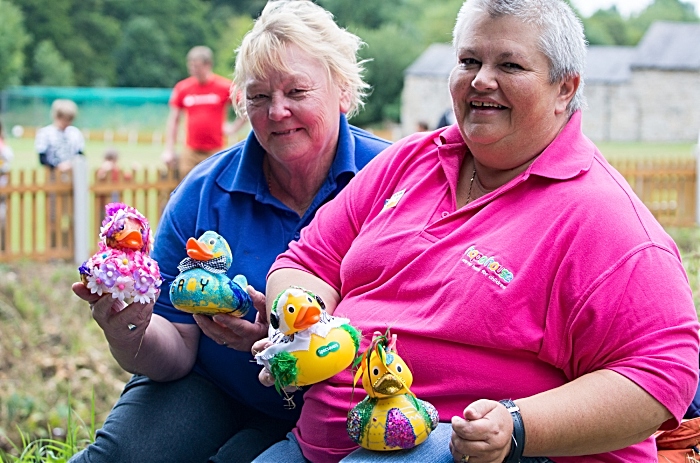 Mill Island and the River Weaver will turn yellow with the first hospice fundraising Nantwich Duck Race next month.
Hundreds of children and families will gather at Mill Island as a fleet of rubber ducks are released into the water in aid of Hope House Children's Hospices.
The Nantwich Duck race takes place on Sunday May 5, organised by members of the local Nantwich Lions club.
There are two categories, the original race duck at £1 for a baby duck which can be bought on the day or from the Hope House shop on Nantwich High Street.
Your duck will be kept at Race HQ ready for the day.
The second category is the "Dress Up Duck Race" with a bigger duck at 15cm for £30 each.
Once ducks have been judged, they will be entered into the water for their own race to also compete for the fastest duck trophy.
Dress up ducks can be purchased at www.nantwichlions.org.uk
Registration and judging at 12 noon with the first race at 1pm.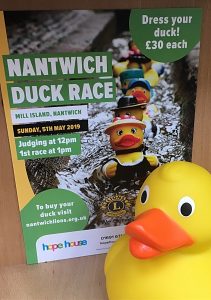 Hope House Children's Hospices area fundraiser Hannah Robinson said: "Sadly, every week, three local families face their biggest fear and their child dies.
"Hope House Children's Hospices cannot stop children dying but we can stop families suffering on their own.
"When they are facing the most devastating loss of their lives we must be there.
"We need to reach every child, mum, dad, sister and brother and to do this we need to raise more money.
"Please join us at this event to help us reach more children and their families who need us.
"We need to raise in excess of £6m a year to support all the children and families we help from across Cheshire, Shropshire and also North Wales.
"It's so sad three children die each week in our area from incurable illness but we can only afford to reach and help one of those children.
"That's why it's so important we have as much help as possible from communities and businesses across the region.
"I'm looking forward to the Nantwich Duck race, we have held them previously in other areas and they are great fun!"
To find out more about Hope House Children's Hospices please visit www.hopehouse.org.uk