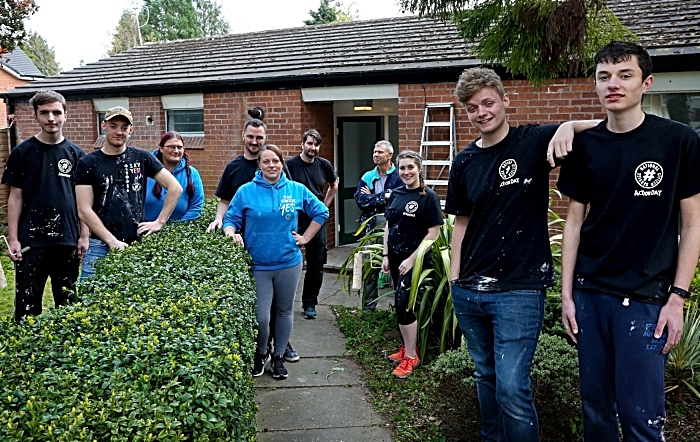 Young National Citizen Service volunteers in Nantwich have been brushing up their DIY skills.
Big-hearted teenagers and NCS youth workers gave up a weekend to help renovate a bungalow for emergency housing at Regents Park in Nantwich.
It was part of national Action Day held to showcase the positive impact teenagers have on local communities.
Participants become NCS graduates after completing the programme and come together on Action Day to continue making positive changes.
Joined by representatives from Youth Fed and Ingeus, which deliver NCS in the region, they painted walls, cleaned appliances and tidied the garden of the bungalow.
"I supported Action Day because people who are unfortunate in life need help," said NCS graduate Dan Bradley, 16, from Tarporley.
"The thought of anyone losing their home and losing hope is dreadful and I have the chance to make a difference by helping here; a little bit of anyone's time can make a massive difference."
Dan, who has autism, is a student at Cheshire College – South & West in Crewe.
He completed the NCS programme in 2018 and has joined the NCS local youth board along with fellow volunteer Ollie Glendining.
Ollie, 17, from Holmes Chapel, added: "Completing NCS gave me so much, it genuinely changed my life.
"I made new friends, gained confidence in myself and enjoyed giving something back to the community.
"I'm very interested in charity work and jumped at the chance to help with such a worthy Action Day project."
Ollie was named Youth Fed NCS Graduate of the Year and now volunteers alongside the Ingeus recruitment team at his school.
Regents Park Reverend Michelle Nunn said: "Our bungalow was in desperate need of refurbishment and we couldn't have managed it without the NCS team's help.
"We love having NCS teams here as it supports our ethos of communities coming together and supporting each other.
"It's also gratifying to see how the NCS volunteers develop into young leaders and gain belief in the fact that by acting, you can positively change the world around you."
To find out more about National Citizen Service visit NCSYES.CO.UK
(Pics: Dan Bradley and Ollie Glendining (below) get to work at the Regents Park bungalow; Above – The NCS team help renovate bungalow)