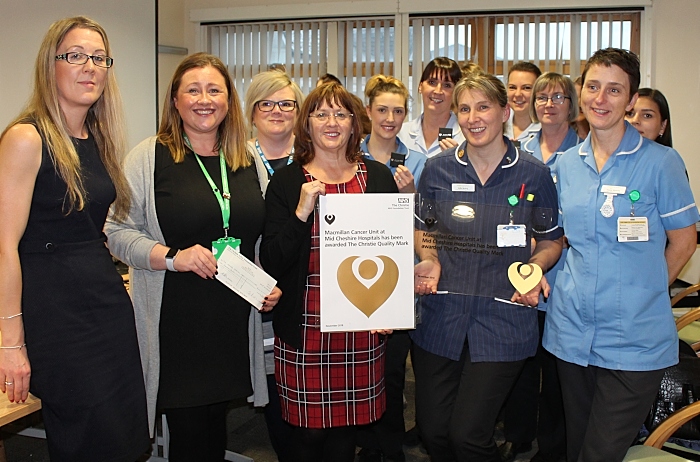 Leighton Hospital has received a "mark of approval" for treating patients with cancer.
The Macmillan Cancer Unit at the Crewe hospital run by Mid Cheshire Hospitals NHS Foundation Trust, has become the 10th in the North to be awarded The Christie *Quality Mark.
The accreditation is given by The Christie NHS Foundation Trust to cancer units that deliver a high standard of treatment.
It means Crewe and Nantwich cancer patients can receive treatment closer to home while being assured the standard of care is the same as at The Christie.
Care and safety of patients, privacy, dignity, treatment, and record keeping are some of the standards checked to earn the mark.
Assessors spoke to patients and staff, observed care and reviewed documentation.
Assessments take place every three years to ensure cancer units are still providing high quality care.
Along with the accreditation, Leighton's Macmillan unit also received a donation of £1,000 from The Christie, which will be used towards increasing the quality of care and experience for local patients.
Katie Mulroy, Macmillan lead chemotherapy nurse, said: "As a team it makes us proud as we have had to work hard to get the Quality Mark.
"It's a boost for staff as much as patients as it shows we provide the same quality of care, and when the patients see the Mark they know they aren't missing out on quality."
Julie Tunney, director or nursing and quality, said: "We are very proud of the cancer services we provide to the local population and are delighted to have received the Quality Mark.
"We hope it offers our patients comfort that they are receiving the highest quality of care from recognised, compassionate and dedicated staff."
Jackie Bird, chief nurse and executive director of quality at The Christie, added: "Well done to the chemotherapy staff at Leighton Hospital on successfully being awarded The Christie Quality Mark.
"This award demonstrates their hard work and dedication in delivering the best possible standard of chemotherapy care.
"More patients now receive chemotherapy at local centres and the Quality Mark provides them with the reassurance that they are getting the Christie standard of outstanding care.
"We are delighted that the team at Leighton Hospital chose to work in partnership with us to secure this prestigious badge of quality."
(Pic: The team presented with the Quality Mark from The Christie for their high standard of patient care)