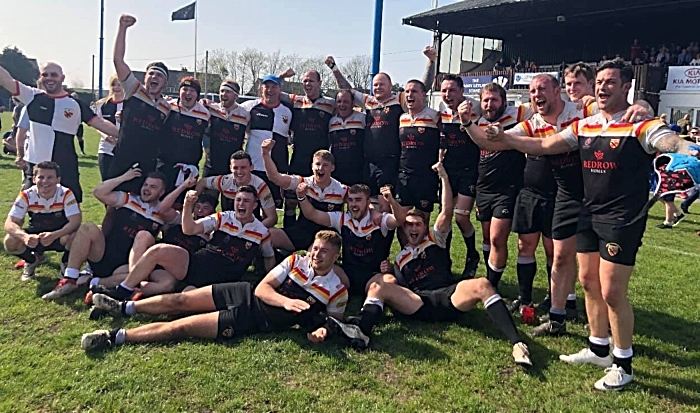 Crewe & Nantwich RUFC's cup final victory was "just reward" for their efforts, said head coach John Farr.
The 1sts triumphed 21-8 over Winnington Park in the final at New Brighton.
And a delighted Farr believes it's what his side deserves for displaying "resilience and effort".
"Not just in this final, but throughout the season," he said.
"Games like that are never easy and Winnington gave us a run for our money.
"This team have come a long way though and they're willing to give everything for each other, what more can you ask?
"We weathered the storm, stayed calm and executed accurately when we had the opportunity. Very proud of the whole club.
"Too many people to thank but Dan Potts has played a pivotal role in gelling the squad together."
Crewe had to defend resolutely for about 15 minutes and the boys really put their bodies on the line as Winnington pressed from the start.
Farr's men then broke from their half and a couple of phases later, quick-thinking from Crewe scrum half George Colebourne allowed him to force his way over the line making the score 0-7.
Both teams continued to fight for dominance with some hard running, but a penalty kick from Winnington Park took the score to 3-7.
As pressure mounted, penalties were awarded to both sides but both kickers hit the post, taking the match to half time.
In the second half, Crewe executed a textbook move to send Toby Ward sailing over for a well deserved try, converted by fly half Jim Creighton for 3-14.
Winnington then exerted a period of pressure and were rewarded with a try in the right corner, however were unable to convert, to make it 8-14.
However, almost immediately after Crewe pressure forced Winnington to kick long.
The kick was gathered by Ward who returned the ball with a great run and perfectly timed pass to release winger Tom Fenney for a decisive score.
The victory topped off a strong season in which Crewe finished a respectable 6th in the league despite a difficult start.