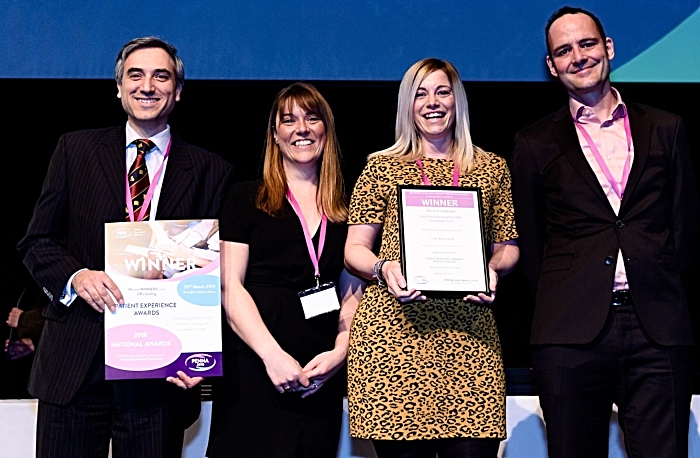 Two Leighton Hospital projects and a community health scheme have been recognised at a national awards ceremony celebrating excellent patient experience.
Mid Cheshire Hospitals NHS Foundation Trust (MCHFT) won two awards at The Patient Experience Network (PEN) National Awards Birmingham event.
The Trust was also named as a finalist in three further categories.
MCHFT's first award went to the Surgical Ambulatory Care Unit (SACU) in the category of "Integration and Continuity of Care".
SACU was recognised for providing patients with high quality emergency care managed safely the same day without admission to a hospital bed.
It has helped free up 102 beds at Leighton Hospital every month since the unit opened in September 2016.
Helen Williamson, Matron and Project Lead for SACU at Mid Cheshire Hospitals, said: "The success of this project has been down to the hard-working staff who have been working tirelessly to ensure patients get timely and optimum treatment, but are then supported to return home the same day."
The second award went to the Trust's 'Virtual Fracture Clinic' (pictured above) in the category of 'Innovative Use of Technology, Social and Digital Media'.
Thousands of patients have benefited from the clinic, which allows patients to manage their broken bones safely and reduces the number of times they need to visit hospital.
It has reduced clinic waiting times.
Nick Boyce Cam, Consultant Orthopaedic and Trauma Surgeon, said: "The team has worked hard to get this project in place and it has had a positive impact on patient care. Patients are now receiving the correct treatment sooner with fewer visits to hospital."
Meanwhile, Central Cheshire Integrated Care Partnership (CCICP), which manages community services in the South Cheshire and Vale Royal areas, were also finalists.
The new service (team, pictured below) is an innovative and alternative approach to hospital admissions for patients in the community.
They assist adults who have acute ill-health or an exacerbation of a long term illness, to be treated and cared for at home where appropriate.
This has prevented hospital admission in 72% of cases so far.
Laura Lane, Advanced Community Practitioner, said: "The service's success is due to the collaborative working of all community services with primary care.
"We could not deliver our service without the help and support of the rest of the multi-disciplinary team.
"We also work closely with our colleagues at Leighton Hospital and if we feel our patients require a hospital admission this enables a smooth patient journey from community to hospital."