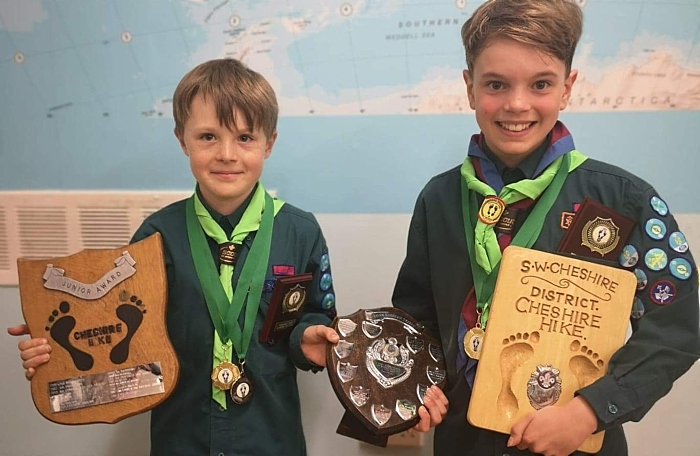 Two young Nantwich Scouts were triumphant at the 53rd Cheshire Hike competition.
Jake Long and Stanton Smith (pictured), both 11, are celebrating success after taking three top prizes as they represented the 7th SWC Nantwich Millfields Scout group at the 2019 competition.
The Cheshire Hike is a challenge of map and compass skills combined with perseverance to keep going as participants complete between 19 and 36 miles while carrying all their personal kit including a tent and cooking equipment.
This year, 418 participants representing every district in Cheshire trekked across the countryside during the two-day competition.
This was the first year the 7th SWC group, based at Millfields Primary School, entered a team having only started their scout troop in September 2017.
After months of training, both in hiking and mastering the camp skills required to survive the night, the 7th had four scouts participate in the competition.
Abi Pearson competed in the intermediate category, while William Gardner competed in the junior category alongside Jake and Stanton.
Jake and Stanton took first place in the junior category for both the South West Cheshire District and the overall county.
They also won the Brian Kershaw Trophy, awarded to the team with the highest points in their first ever Cheshire Hike, regardless of age category.
Cheryl Hamlyn, 7th SWC scout leader. said: "Completing the hike is a challenge in itself.
"I am immensely proud of all my scouts and leaders who gave up so much time and put in a high level of effort preparing for the event, it was a real team effort.
"Jake and Stanton winning was just the icing on the cake."
This is the second year in a row the three trophies have been brought back to Nantwich.
Henry Montgomery and Oscar Pedley from the 38th SWC won them last year.