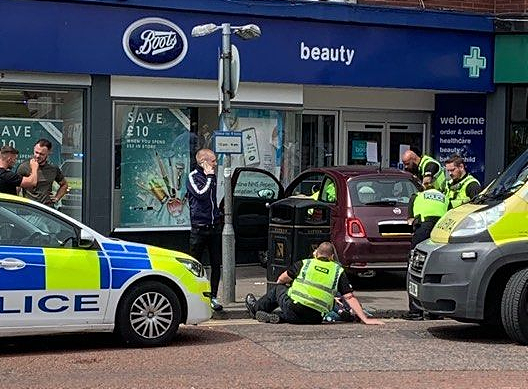 A woman was injured after a car careered into a shop frontage in busy Nantwich town centre today (May 25).
The incident happened at around 2pm on Swinemarket in Nantwich and is believed to have involved one vehicle.
Witnesses say they saw the vehicle lose control and crash into the front of the Boots store.
Air ambulance was called to the scene along with police and land paramedics.
One woman, believed to be the passenger in the vehicle  at the time, has been treated at the roadside.
Police say the vehicle driver was treated for shock.
At this stage, it's not clear how the incident happened.
A Cheshire Police spokesperson told Nantwich News: "This was a road traffic collision involving a single vehicle.
"One female was treated for injuries and the driver was in shock. The female has been taken to hospital for treatment.
"The vehicle has been removed from the scene."
(Images courtesy of Nantwich News readers)